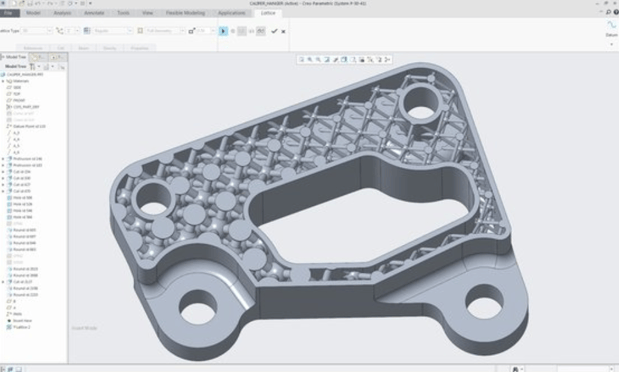 One of the hottest topics in the world of product design and manufacturing is model-based definition. Otherwise known as 'MBD', it saves engineers time and prevents manual error. It's particularly useful in additive manufacturing, and thanks to advancements in software tools such as Creo 4.0, MBD is now far easier to add to an engineer's toolkit.
But, why should you add it to yours?
What is model-based definition?
Model-based definition is essentially a highly detailed, annotated model that's capable of defining a product without a graphic drawing sheet.
It enables designers to share their 3D models with anyone involved in the project, confident in the knowledge that the MBD contains all the information required to build the final product.
Model-based definition joins a number of similar terms used by the industry, and it's important to be aware of the differences:
Model-based engineering (MBE)

: an approach to product development that relies on a digital model to drive all engineering activities

Model-based enterprise

: the infrastructure that puts in place all MBE and MBD practices

Model-based design

: another 'MBD', but one that refers to the

conceptual

stage of using a model for engineering purposes
How does MBD work in software?
With tools like Creo 4.0, designers can avoid the costly overruns that often result from working solely with flat 2D designs and potentially missing data.
Model-based definition embeds all the necessary manufacturing information directly within 3D models, but software plays an important role by removing the barriers often associated with implementing MBD.
Enhanced annotation workflows save time and effort and the ability to publish designs to a number of formats means the entire product definition can be shared easily.
No MBD without GD&T
Model-based engineering simply isn't possible without something called 'geometric dimensioning and tolerancing' (GD&T).
This helps designers communicate the full product definition to the manufacturing team and ensures vital details such as the allowable degree of variation aren't overlooked during manufacturing.
GD&T is a symbolically-driven language, designed to be easily and quickly digested by multiple project stakeholders. With software like Creo 4.0, much of the work is undertaken automatically, which prevents human error from harming GD&T.
Why is MBD becoming so popular?
Although not the sole reason, the adoption and excitement surrounding additive manufacturing has played a key role in the rise of MBD due to the fact it requires a 3D model.
The future of MBD will be driven largely driven by the evolution of additive manufacturing, which is creating a sense of urgency for establishing a standard. As additive manufacturing changes and adopts, we're likely to see an improved process overall for product definition.