Creo is the industry-leading 3D CAD software that helps product designers work smarter and faster. Creo 8, released in April 2021, was created after listening to feedback from designers. It aims to accelerate innovation, increase opportunities for collaboration, allow for simpler design reuse and help designers take a more data-driven approach.
In this article, we'll show you our ten favourite enhancements that you can use every day to make your designs shine.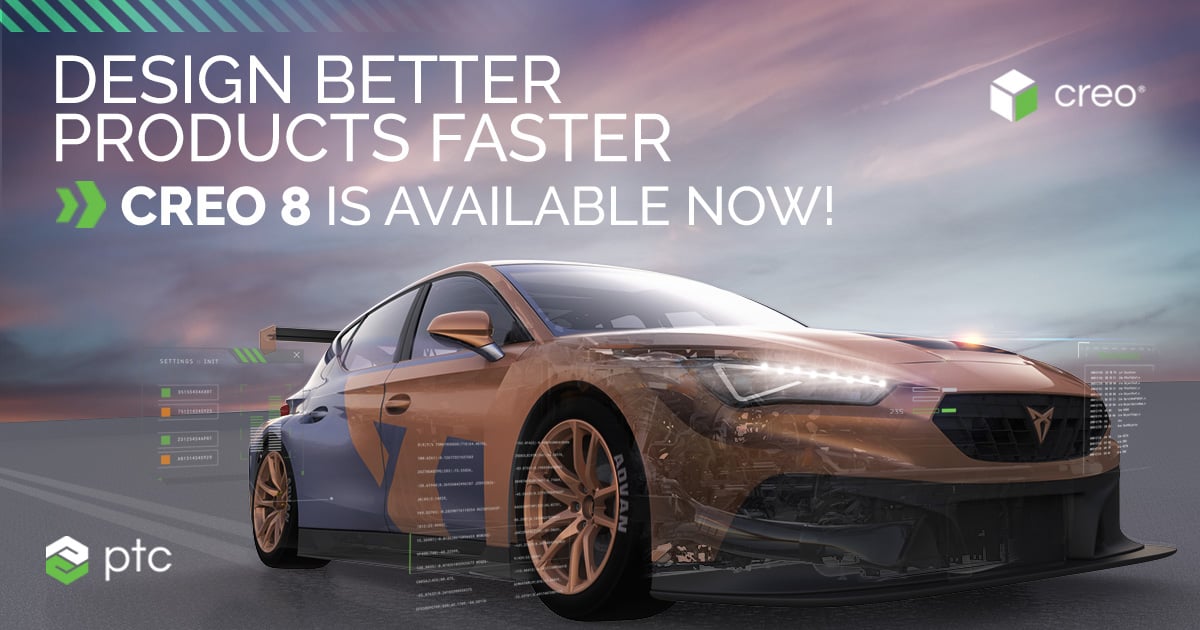 1 - Simpler workflow
Creo 8 aims to make it easier to bring your ideas to life with a more new datum display interface, including shaded planes and colour coordinate systems. You can also detach and display multiple dashboard panels and control the transparency display for various items. If you use Sketcher in Creo 8, you'll enjoy the new control options for dimension visibility.
2 - More comprehensive model tree
The model tree in Creo, which lists every feature in a part file including its datum and coordinate systems, is now more detailed than ever. With new features including quilt nodes, custom groups and side-by-side trees, it's suddenly much easier to document the intent of your designs and communicate it to others.
3 - Snappier snapshots
A new feature in Snapshots is Show Snapshot, where you can calculate and preview Snapshots of quilts and bodies. You can even display more than one preview simultaneously. This is great if you want to go back and see how your design has evolved through the process.
4 - Holes made easy
Crew's hole tool allows you to add simple, customised and industry-standard holes to your designs. Creo 8's enhanced hole feature makes adding holes simpler than ever. Improvements include new thread-handling options, lightweight representations for all types of hole, plus new standard support, including tapped and tapered holes.
5 - More efficient geodesic curves
Creo 8 allows designers to create more efficient geodesic curves, with the option to represent the shortest distance between two points over the surface. For designers working with fabrics, wiring or cabling, this will make their work much more effective.
6 - Smarter Sheetmetal
Creo's 3D sheet metal design feature has been given an overhaul, with new options to create multiple flat walls simultaneously. It allows you to automatically create mitres for 3-bend corners and corner reliefs for inner and outer corners. You'll also find it works much faster.
7 - Better cabling
Designers of routed systems will love Creo 8's new cabling and ECAD design features. You'll be able to do all kinds of new things, including creating cosmetic branch tape and stiff shrink features. You'll also be able to import ECAD slots as ECAD cuts through IDX.
8 - Awesome assemblies
If you use purchased components in your assembly, you can now include them in your model, all thanks to Creo 8's new inseparable assembly feature. Once it's included, you can embed, extract, separate and make inseparable, create new embedded components, and a whole lot more.
9 - All-new Render Studio
Creo's powerful photorealistic Render Studio has been updated for 2021 in Creo 8. It now uses resources in your computer's graphics card to improve performance and rendering quality. A new Hardware Check option will evaluate your computer's GPU mode to make sure it can handle it. There's also a new Denoise feature that makes Render Studio much faster.
10 - High-definition modelling
Creo 8 brings designers powerful new MBD and detailing tools that will make your models richer and more useful for manufacturing, inspection and supply chain. There are also enhanced sketching tools for drawing on the fly and a new set of symbols (including a customisable symbol gallery).
If you're already a Creo user, you'll love what's new in Creo 8. If you haven't used it before, there's never been a better time to switch.