In a world where design teams are increasingly under pressure to get it right the first time, it is essential that engineers are given an insight into product performance and quality, to guide early design and development decisions.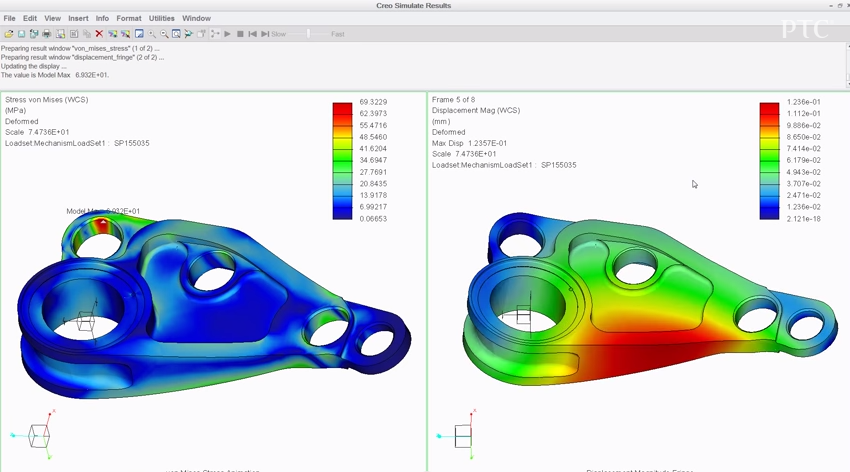 Traditional tools are viable solutions to support virtual analysis. However, they typically lack the ease of use and integration within the CAD system. As a result of this, the analysis ends up being a late stage process, performed by a specific group of dedicated specialists.
Creo Simulate empowers engineers and designers to analyse and understand structural and thermal product performance early on in the design process.
The benefits of Creo Simulate
By gaining an early insight into product behaviour, engineers are able to gain an understanding of design changes to improve product quality, all while saving time money and effort.
Unlike traditional FEA tools, Creo Simulate was developed to address usability and interoperability concerns of engineers and designers.
Creo Simulate delivers ease of use, leveraging a common user interface, an intuitive workflow and an integral Creo solution, providing support for current design and analysis.
The issues with traditional simulation tools
They require a dedicated team, whose job it is to conduct FEA analysis and that's it.
Even though the original CAD geometry may exist, components are generally remodelled in the FEA solver, this causes disconnect and confusion.
Typically FEA tools do not want to deal with rounds or chamfers of other complex geometries leading to the dumbing down of geometry for analysis.
If an engineer who has not used an FEA tool runs an analysis, the question of confidence comes into play. Was it meshed well enough? Did it actually converge? Are the results accurate?
Creo Simulate can eliminate these common concerns
Creo Simulate is integrated into Creo Parametric, meaning you can instantly move between the CAD tool and the FEA tool, while you work in the same native geometry. There is no need to export, re-import or remodel. Any modifications to the Creo Parametric will be automatically reflected in Creo Simulate, you just have to re-run the analysis. Because it's walking you through the entire set up process, you have the ability to rely on results. This means you have significantly lower prototypes, reducing time and costs.

Find out more about Creo Simulate and watch the video to see how Nicklin transformed their approach to product design with Creo Simulate: