Engineering design drawings are an essential part of the manufacturing process but these can be overly complicated and detailed for the end customer. This is where technical illustrations come into play. However, the process of turning your engineering drawings into technical illustrations doesn't always run smooth. This is where Creo Illustrate comes into play, helping you to erase difficult hurdles from your engineering process.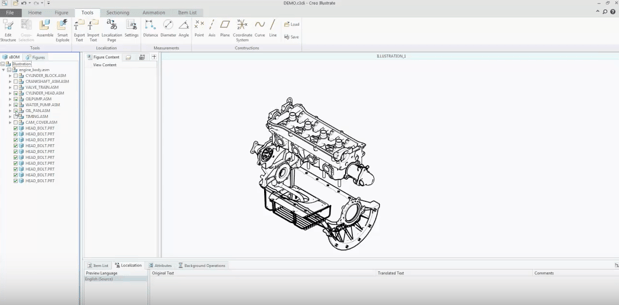 Here a five common problems which can be overcome with the help of technical illustrations created with Creo Illustrate:


#1 Make product information more accessible through configuration-specific graphical information
It's a no brainer. Manual or inefficient transfer of information can drain on engineering team resource. It also delays time to market because products cannot be shipped without documentation. Make information accessible by integrating IsoDraw software into your systems. Seamlessly access the correct details to certain products and make the entire process efficient.
#2 Update information as product details change through an associative link to CAD files
Often, costs and work hours build up when late stage product updates mean documentation needs to be amended. Having an integrated system for managing this will help you to save time and money. It helps the whole process quicken up, meaning you don't have to trail back to the right product design information and update it manually.
#3 Prevent your technical illustrations from becoming static, by deriving illustrations directly from CAD geometry
For many organisations, disconnects between CAD geometry and technical illustrations means that static publication become stale very quickly as a result of product updates. Creo Illustrate software eliminates this, enabling you to bridge the gap between CAD and technical publications.
#4 Accurate information is placed in the documentation by illustrating your procedures through sequenced steps and creating better graphical information that minimises the need for additional text
Often inaccurate or missing data in a product's documentation is a result of publications not being updated as the product design is changed. Therefore you have to back-track the process and update the documentation accordingly. Creo Illustrate enables users to start reviewing the information before the product design is even complete.
#5 Create advanced 3D graphics and animations to better show service procedures
By using 3D graphics and animations, you have accurate and easy to understand visual information, which minimises the risk of errors and maximises efficiencies.
It's essential product changes are documented and updates are completed at the time changes are made so you're not wasting valuable working time. All these steps help you to work concurrently to achieve a faster time to market, improve customer satisfaction and ensure product changes or updates are communicated efficiently.
To find out more about how to optimise your technical illustration process, watch our OnDemand Creo Illustrate webinar.
Originally published 15th December 2015. Updated 21st february 2018 for relevancy.