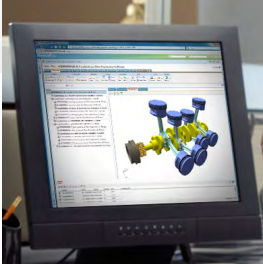 Increasing numbers of manufacturers are utilising PLM solutions, to optimise all aspects of their product development processes. Nevertheless, it can be hard to offer a precise definition of PLM. Yet, to know exactly how PLM can benefit business, it is essential to know what PLM solutions have to offer. Regardless of how PLM is defined, there are the 'must have' components, which are vital for any PLM solution to be effective. We've put together an overview of the 7 essential components of PLM solutions.
#1 Document Management
This is vital for being able to store, track and manage all the data associated with your product development processes. It includes everything from graphics and text right through to engineering calculations. Comprehensive document management makes it easier to track any data changes and monitor access to documents by creating a single, central data store.
#2 Embedded Visualisation
Embedded visualisation allows for collaboration, between mechanical and electrical areas, using centralised digital product information. It also makes it possible to view any product data, without needing authentication from the native tool.
#3 Workflow
This component of a PLM solution makes it possible to define product development processes fully, through a standardised method. It also ensures that all process and procedures are adhered to and all necessary related tasks taken.
#4 Distributed Collaboration
Companies increasingly operate across multiple locations, with internal and external partners. Distributed collaboration means both individuals and larger teams can work concurrently on a project, with all data securely protected, regardless of location.
#5 Multi-CAD Data Management
This enables complete control over all CAD data, from across different CAD tools. It offers a central point for all CAD data, while also managing the dependant CAD relationships during product development.
#6 Complete BOM Management
Manage and track all the different aspects of product development and definition. Complete BOM management covers the entire process, across all disciplines. It gives better control and offers engineers more insights into the potential impact of any changes.
#7 Change and Configuration Management
Good communication is essential, which is where change and configuration management comes in. It makes sure that everyone is aware of each process, from designing right through to servicing, throughout the entire product lifecycle.
Find out more about choosing PLM solutions by downloading our guide to selecting PLM: