There's nothing like getting the latest product release – knowing that you have the very best the market can offer.
But, while the launch of Mathcad Prime 3.0 offers users even more capabilities than they already experience with earlier versions, there is a common question that often comes up: how do I make sure all my legacy Mathcad worksheets can still be used in Mathcad Prime 3.0?
Before you start converting your Mathcad worksheets to use in Mathcad Prime 3.0
There are a few things you need to know before you start. First of all, you're going to need both Mathcad 15 and Mathcad Prime installed on your machine. Without having both installed, the converted won't be enabled for you to use.
Also, if you're just using earlier version of Mathcad Prime, then you don't need to go through the conversion process. You worksheets should automatically work in the latest release.
How to convert Mathcad worksheets?
Included in the release of Mathcad Prime 3.0 is a XMCD, MCD Converter, which is designed to make worksheets from earlier Mathcad releases usable in Mathcad Prime 3.0. This converter can be used on single Mathcad worksheets and also on multiple file batches. It updates worksheets, so they can be used in Mathcad Prime 3.0, without altering the legacy worksheet. The converter is easy to access in Mathcad Prime 3.0. You'll find it listed under the input/output tab.
To begin Mathcad worksheet conversion, open the converter. Then browse through the worksheet list, selecting the ones you want convert. After you've completed your selection, press the convert button.
As it progresses, the converter will update the status of each worksheet. Once the conversion is complete, the worksheets will be ready to use in Mathcad Prime 3.0.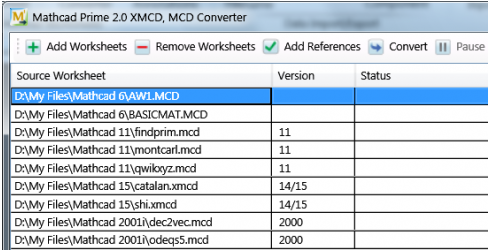 Using converted Mathcad worksheets
After opening a converted worksheet, you will need to make a few tweaks to get the file in working order, these include:
Applying the grid to put the graph paper background back onto your worksheet
Review and clear annotations
Remove extra space – sometime during the conversion process, additional space will be added into the worksheet, so this needs to be tidied up
Remember, as well than the results will initially all be the same as those from the original version. If the results alter after a recalculation, any differences between the original and converted worksheet will have a note attached. Differences include:
Features which are not supported by Mathcad Prime 2.0
Calculation alterations that might impact on results
Display alterations that have no effect on results
Also, plots will not appear in converted worksheets until after a recalculation. To recalculate simply press F5 or F9, then the plots will be ready to use.
Find out how using Mathcad Prime 3.0 will enhance your engineering calculation capabilities. Get a free trial today (plus Mathcad Express for life!)
Editors note: This post is an updated version of How to convert Mathcad worksheets to work in Mathcad Prime 2.0, to reflect recent product updates.