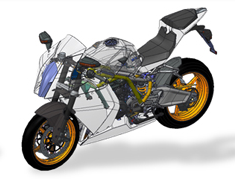 It's that time of year to review what resonated most with you over the last 12 months.
So here is a look at the top 5 most viewed posts from 2014. All the posts in this list were published this year and and ranked based on the total page views.
No surprise that this post made it to number one. The release of Creo 3.0 was big news in 2014.
This new release of Creo offers clear benefits for users, including ground-breaking multi-CAD technology, advances in concept design and enhancements to the overall user experience. Plus, Creo 3 will offer users more opportunities to improve efficiency and productivity.
Find out more and read the full article here.
The posts offers a brief overview on how Product Lifecycle Management has changed, helping to explain how and why product lifecycle management first developed and why there is a clear and growing need for PLM.
Find out more and read the full article here.
Getting started with Mathcad Prime 3.0 doesn't have to be a challenge. And, with this popular post on the top 5 quick tips, it seems lots of you have discovered how to make the most of the capabilities in Mathcad Prime 3.0.
When it comes to engineering calculations, Mathcad Prime 3.0 is the industry standard. This latest release of Mathcad Prime comes with fantastic new features, including global definitions, math formatting in text, templates for advanced numerics and new custom functions. This isn't your standard spreadsheet; it's an essential tool for successful engineering calculations.
Find out the top 5 quick tips here.
After Creo 3.0 was launched, we wrote this post to summaries exactly what it means for designers and engineers.
As the latest release of Creo continues to deliver greater power and more flexibility to support the acceleration of the product development process, we evaluate some of the headline benefits of this new release.
Read the full post here.
Blog posts that take a deeper dive on how to get the most out of your tools are often popular, with this one on Mathcad Prime 3.0 templates clearly leading the pack in 2014.
One of the exciting new features of Mathcad Prime 3.0 is Templates. This means that you no longer need to spend time formatting each and every worksheet to include the basic structure or formatting that you use as standard. With a template, you can pre-populate your worksheets with information.
Find out more about template in Mathcad Prime 3.0 here.