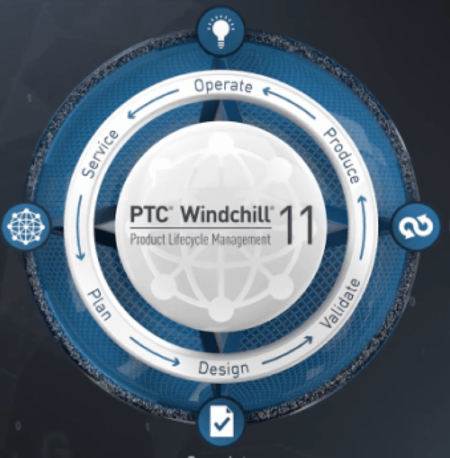 The process of managing the entire lifecycle of a product from initial idea scribbled in the back of a notebook to eventual release is incredibly complex. It therefore stands to reason that manufacturers need the best, freshest tools if they're to get products to market efficiently.
When launched in 1998, Windchill was promoted as the first web-based product lifecycle management (PLM) system to hit the market within a nascent internet community. Version 11 continues the forward-thinking philosophy behind Windchill by adding some truly groundbreaking features. And, because it's version 11, we're going to look at - you guessed it - 11 new Windchill features that everyone is shouting about.
Performance Advisor
You can now connect Windchill to PTC Technical Support in order to receive information and updates designed to help optimise and maintain system performance. This means that, finally, a load will be taken off the backs of tech support teams with direct help from PTC themselves.
Connected Quality
When a product leaves the manufacturer and heads out into the big, wide world, analytical data on its performance and usage isn't particularly easy to obtain. Now, it is, because Windchill 11 includes a 'Quality Extension' for ThingWorx that makes it possible for product data to be collected an analysed when it enters the field.
CAD Data Management improvements
Users can now create a new promotion request for newly checked-in or modified data and can select the only the objects that are important to them by filtering out the clutter.
Automatic Project Updates
Windchill has long been capable of automatic updates, but in version 11, it is able to update on a project-by-project basis. This is particularly handy as it allows updates that are timed to coincide with the needs of each individual project.
Document Management
A favourite of ours, this one - Windchill 11 now has a common document directory from which every important file can be downloaded, no matter its origin. That means no more fiddly working with Windchill Desktop Integration!
Change Management
What's one of the most important aspects of PLM? That's right - change management, and in Windchill 11, businesses can configure their own change management process. Additionally, users can now configure links between change objects and benefit from flexible change associations.
BoM Transformation and Manufacturing Planning
Need to transfer an engineering bill of materials (BoM) into a manufacturing BoM? In Windchill 11, you can, and the process is easier than ever thanks to changes to the web-based user interface. Faster time to manufacturer is now possible with a single, unified product definition that is accessible to both manufacturing and engineering.
BoM Management Improvements
In Windchill 11, you can manage a multi-dimensional, complete bill of materials centrally. This helps product developers transition from a drawing-centric approach to one that is part-centric, and that means quicker time to market and decreased manufacturing costs. Further improvements enable better decisions to be made about the engineering process thanks to new visualisation actions and visual status updates.
Role-Based Apps
PTC Navigate arrives in Windchill 11, enabling PLM information to be made available to all stakeholders involved in the delivery of a product. Like the new Quality Extension (see number 2), this is thanks to ThingWorx technology that powers the new PTC Navigate - a role and task-specific app that features an incredibly easy-to-use user interface.
UI and Query Builder
One of the biggest changes in Windchill 11 is a complete overhaul of the user interface. It is now ultra-approachable and far easier for new users to understand the relationship between objects. The query builder, in particular, enables users to filter out just the objects and respective relationships that are in use within their deployment of Windchill.
Search
Search is far better in Windchill 11. You can now search by parts classification and attributes at the same time, filter results and view searched keywords within the context of documents (think Microsoft Word's search feature). The developers have also worked tirelessly to create a graphical search interface that is a joy to use.
Windchill 11 is a huge update and the above represents just a selection of what has been changed. Having had our hands on it for a while now, we can confirm that the headline features and numerous under-the-hood tweaks have had a seismic impact on the performance and capabilities of this superb PLM tool.