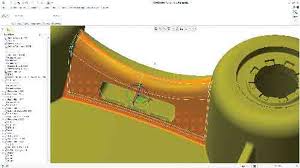 It is only in the last few years that direct modeling has really started to come to the fore. While it has previously only been used in a few functions, many engineers and designers are now turning to a direct modeling approach in some of their work. In this blog post, we'll out line why this is the case.
How is direct modeling different to parametric modeling?
There is a fundamental difference between direct and parametric modeling. While parametric modeling relies on the end geometry of a feature being integrated with all the stages that go into making that feature, this is not the case for direct modeling.
In fact, direct modeling allows engineers and designers to work on the geometry of the model, without having to worry about maintaining the all of the parameters. This enables them to make changes, for instance by pulling or pushing.
In short, direct modeling is an approach that enables users to make changes directly to their model.
What is the impact of direct modeling for CAD users?
Arguably, one of the most influential impacts of direct modeling is the way that it allows designers to create complex surfaces, whenever they want. Modern customers are not just looking for products that work; they want products that are an exact match to their specification.
For instance, the smooth, beautifully flowing surfaces found on many products would typically take a lot of time and considerable effort. This type of complex geometry would require different aspects of the model to be linked together, before they could then be formed together to create the desired surface.
This all changes with direct modeling; geometries can be worked upon directly to create the desired outcome. As a result of this, geometries that were previously very difficult to make have now become much more straightforward. This also means that designers are able to investigate a wider range of design options.
Designers and engineers are now able to create the products that they want to create, rather than having to settle with second-best.
Other Uses for Direct Modeling
However, direct modeling isn't just useful when working on complex surfaces. In fact, another key advantage of direct modeling is the ability to modify and adapt parametric designs, without having to compromise any of the model's vital dependencies. There are now CAD tools, such as Creo, that enable users to take a parametric model and import it into a direct modeling environment. For engineers and designers, this means that critical or late-stage design amends no longer have to mean a fight against your tools.
With Creo Flexible Modeling, you can in fact take advantage of a direct modeling approach, without having to compromise any part of your parametric model.
Want to see how Creo works yourself? Get your free 30-day Creo trial here: