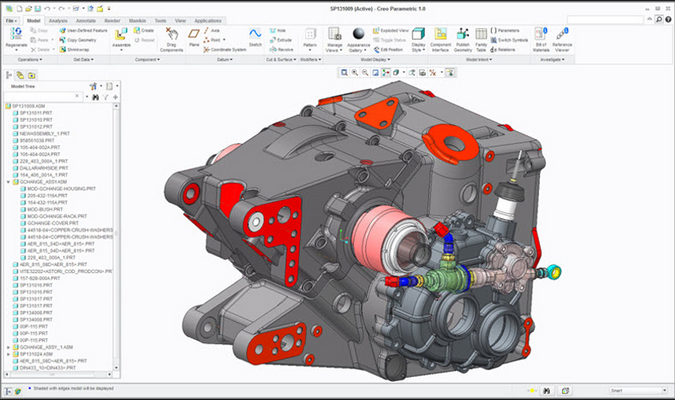 Years ago, when parametric features-based modelling was first released, it really did revolutionise the CAD industry. It fundamentally changed the way that engineering organisations not only developed 3D models, but also how they made changed to the designs as well. By adopting a parametric approach to creating models, engineers are also setting the clear parameters, features and relationships of the models, which is intended to capture the product's behaviour. Parametric features-based CAD tools provide a lot of power and help to automate some of the engineering processes involved in product development.
What are the key benefits of parametric modelling?
There are many benefits of parametric modelling. Here are just a few of the key advantages:
Provides a whole range of ways to view the model, including rendering
It updates parts of the model, if changes occur to the design and there is a complete bi-directional association between parts
Parametric modelling is more visually appealing and approachable. Particularly useful when the model is used in non-engineering functions.
It gives a clearer feel for what the final product will look like. Proportions and form can be better appreciated
Design intent can be more clearly captured, meaning it's easier to input how the model should behave if the design is modified
3D systems provide automated drawing production.
It offers better integration with manufacturing process and helps to decrease the product development time.
The detail of the models makes them better for analysis and prototyping.
Is parametric modelling right in every situation?
Although these are many advantages to parametric modelling, it isn't always the right tool. For instance, the way features work in a parametric model means that they often have references they use against each other. And, while this can empower a lot of intelligence in the design and in the model, a change to a feature can have a dramatic effect on features that occur later on in the model. Sometimes, these references can even cause the model to fail.
Sometimes, when designing, you'll follow strict rules and known paths, which make parametric modelling an ideal tool. The real challenge, however, is that at other times you really want the option to innovate and explore new territory and ideas. The same features that normally make parametric such a powerful design tool can then turn into a constraint, which slows down the innovation process.
How can this challenge be overcome?
In recent years, there have been some big changes. For example, you can see the emergence of direct modelling as another great way to make 3D models, which is easy to pick up. There have also been a lot of advances in terms of sketching and 2D capabilities.
But, at the same time, it doesn't seem likely that parametric modelling is going away anytime soon. In fact, the enhancements made in Creo 2.0 now means that there are even more capabilities that have been brought to market. In particular, the Creo Flexible Modelling extension for Creo Parametric makes it straightforward for engineers to modify geometry. Plus, it can also be used on other features, like rounds and patterns. It maintains the full design intent and the power of parametric modelling, but makes it easier to make late stage design changes. It will even work on imported CAD data.
Find out more about Creo 2.0 for parametric modelling by downloading 12 reasons why you should upgrade to Creo Parametric 2.0