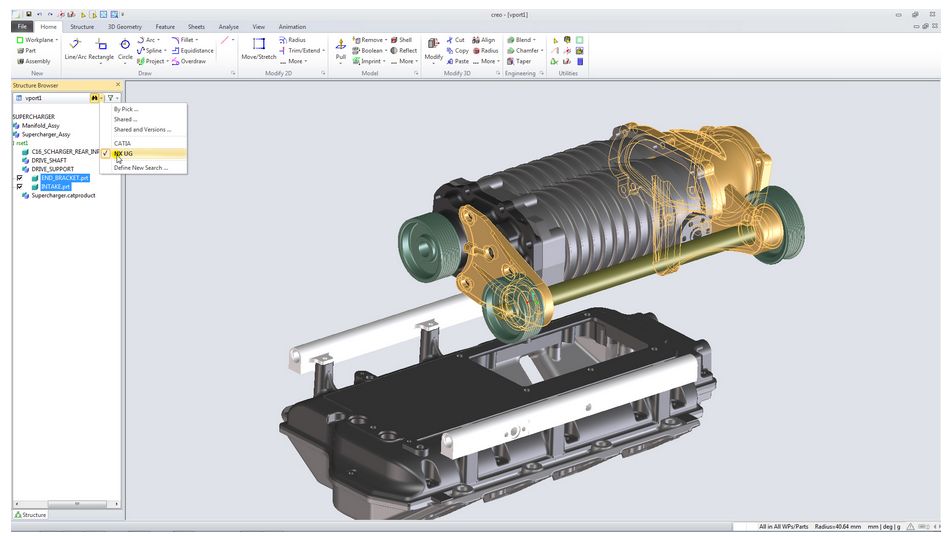 Having the ability and the freedom to share that data, pass that information, from design, manufacturing, quality with ease can only help to improve product development and product potential. Many manufacturers are often restricted in the with their CAD tools. They don't support a flexible, agile process, to make sure that this is all seamless.
But, it doesn't have to be this way. In fact, with advancements in the capabilities of modern CAD tools, there is now no reason for manufactures not to overcome traditional challenges and reach their full product development potential.
Ability to manage direct and parametric models
The value of 2D has, arguably, been diminished in the marketplace. But in many functions 2D is still the optimal tool. Doing large assembly system layouts, for example, are often best handled in 2D. So, one thing that would be a tremendous advantage to manufacturers would be to have the ability to work with a CAD model that allowed access to it through a direct modelling interface and to continue to be able to access it through the type of parametric modeller.
With the capabilities on offer with Creo, it's going to address exactly this pain point that manufacturers still face, meaning they can reduce their development time and time to market. A flexible design tool, such as Creo Flexible Modelling, allows you to make these types of design changes with ease.
Able to import and use data from other CAD systems
For various reasons, it's often a significant challenge to bring data from one CAD tool into another. For instance, you usually have to translate it and then you end up with so called dumb data. Every time a change needs to occur between different CAD systems, it can be a very painful process, with several steps of double-checking and even triple-checking required to ensure that the outputs and inputs are all correct.
But with the developments, made possible with Creo, you can now import data from other CAD tools. These models maintain their design integrity and also allow you to make quick design changes within Creo.
While, previously, you might have relied on data translators in the past, Creo delivers non-native data compatibility, and it delivers it to you in a range of different views:
Interactive view: If you only need to view the CAD model, then there is the option to download a lightweight version of your CAD data. It is a straightforward way to import any size assembly into Creo
CAD-agnostic view: If you need to be able to analyse the data within your CAD model, then you can convert the model into a CAD-agnostic format, which will function within many of the Creo apps.
Fully editable view: If you the option to edit the complete data, you can input a model that is fully editable. This will allow you to modify assemblies, add additional features and edit the geometry
To be able to have data from multiple tool integrated, use various kinds of design techniques, and input from all sorts of functions in your organisation offers the possibility of more efficient and better product development.
Find out more about how you can reach your product potential with Creo 2.0: