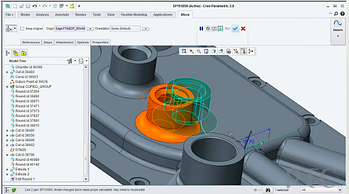 You have to make a change to your model. It happens. Yet, this can sometimes be a real challenge. Perhaps your design intent is redundant or there isn't even design intent in the first place. Maybe, your model has been imported from another CAD system and it doesn't contain any features or the model was created by someone else and now you have to work on it. This doesn't matter. You still need to make the amendment. You need a flexible design tool.
What should a flexible design tool achieve?
The idea behind having a flexible design tool is to take the challenges out of making design amendments. This means that it tackles all the traditional hurdles and, instead, makes the process more intuitive and simple.
What is the flexible design tool for the job?
When wanting to amend geometry on a model, you need to have a tool that makes this easier, not harder. Creo Flexible Modeling (Creo FMX) is an extension to Creo Parametric. It is a flexible design tool, which works within a parametric model, allowing you to make changes to your design.
Using Creo FMX, you select the geometry you want to amend. Then, with the instinctive 3D dragger, you move the geometry to a new part of the model. Creo will then automatically re-attach the geometry to the model. Plus, any rounds will be preserved.
This flexible design tool can also recognise patterns and symmetry. So, if you've imported a model from an external CAD system, you can add intelligence to the model, by searching for patterns or symmetry. On top of this, it is fully editable, to fit your design requirements.
What are the 5 main advantages of Creo FMX?
Simple to use: The instinctive nature of Creo FMX means you can make a design change- fast
Maintains your design intent: Any amendments made using the Creo FMX flexible design tool are recorded as features, which can also be amended again at a later stage.
Manage late-stage changes more efficiently: This tool give means amendments are less frustrating and more intuitive, leading to quicker and easier changes to your model.
Great efficiency in multi-CAD environments: Creo FMX makes it simple for you to work on imported CAD models. Plus, you can now add parametric design intent to the imported CAD data
Quicker 3D modification: If nothing else, Creo FMX means you can get changes done and get on with designing.
Creo FMX is included as part of the Free Creo 30-day Trial. Give it a go and see the difference it makes to your design work.