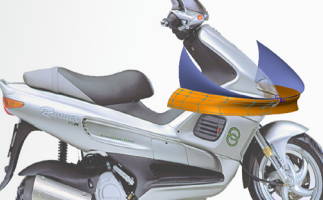 3D modelling software is a powerful tool, which is used to design everything from a new pair of shoes to the next generation of automobiles. Regardless of the types of products you design, incorporating 3D modelling into your design process makes it easier for you to recognise potentially costly design flaws, understand how your product interacts with its environment and what service it'll be able to provide the consumer. It can decrease the time it takes for a product to reach the market, without compromising on the design quality. But, to get the most out of your 3D modelling tool, what are the 5 important facts that every design engineering office manager needs to know?
1. Consolidate your 3D modelling tool with all your other design software
You don't want to dig through countless folders and programmes just to find the necessary design work. Nothing is more irritating than having to continually shift between different CAD software. Having to open up different programmes and to access secondary files, to get the information you need for your current design work is time consuming. On top of this, it increases the likelihood of your computer crashing from trying to run too many programmes at the same time. Instead, it makes sense to consolidate the different design tools you use, so that you have an interoperable CAD tool. For example, by making sure your 3D modelling software is compatible with any 2D drawing programme you use will you save time and effort.
2. Use 3D data to stay connected with everyone working on the design
Sharing 3D data is much easier than trying to collaborate over hand-drawn designs; it's one of the main advantages of 3D modelling. In a global marketplace, you need to be able to reach everyone involved with a project, regardless of where they are located. It could be the other side of the world or just the other side of the room, but you need to be able to share design information and collaborate with others to get the design complete. Plus, if everyone is connected, it makes it much easier to share useful tips and tricks, helping everyone to work more effectively and keep up-to-date on the latest design developments.
3. Download updates for your 3D modelling software
Keeping on top of all the latest updates and software releases means you'll always have the most advanced 3D modelling tool around. It can be annoying when update reminders come along, when you are right in the middle of working on something. But, they are important. Always accept updates as soon as you can. That way, you won't miss out on any additional features and services being added to your 3D modelling tool.
4. Test your product through digital prototyping
Save yourself the expense and effort of physical prototyping at earlier stages, by testing your design in a digital environment. It means you can ensure if fulfils all of the requirements, before developing it further in downstream processes. In fact, with the right 3D modelling tool, such as Creo Simulate, you'll be able to test the complete structural and thermal range of your design, giving you essential data about your design.
5. Save and keep back-ups of your 3D design data
This one might seem obvious, but when working with large files, it can increase the chance of computers crashing. Saving regularly and keeping back-ups of all the different versions is the best way to prevent designs being lost due to computer malfunctions.
To find out more about using 3D modelling tools, as well as a direct comparison with 2D tools, download our free presentation on the pros and cons of 2D & 3D design tools.