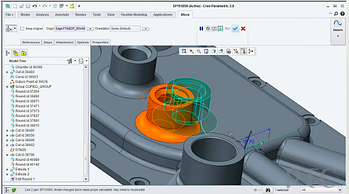 It seems that 51% of concept design work is now done using electronic based systems, including 31% already using 3D data. But, this also means 49% of concept designs still begin as hand-drawn sketches and in engineering notebooks. Although paper based design work is a justifiable method for working on concept designs, the limitations are becoming more pronounced. As technology advances and more companies than ever before work on a global scale, it could be time to make the switch.
Changes and developments in modern CAD mean it is now mean the tools for creating concept designs are more flexible and responsive than ever before. Following on from our analysis of 2D CAD design, we are now exploring the case for making the change to 3D CAD modelling.
Advantages of 3D CAD modelling
Switching to a 3D tool brings many advantages for engineers and designers. Most importantly, it significantly reduces any design ambiguity, making it more straightforward for you to get across your design intent. It leads to less misinterpretation, which also reduces costly downstream errors. The 3D data you have is easy to share with others, regardless of whether they are in the same office or the other end of the country. Also, using 3D tools make it easier to leverage any existing 3D models you already have, allowing you to turn them into new concept designs and increase your design agility. On top of this, utilising a 3D CAD tool is ideal for digital prototyping, so you can fully scrutinise your designs early in the design process.
Disadvantages of 3D CAD modelling
Some 3D tools are better suited to more detailed design work, rather than initial ideas. They are better suited to finalising the lock and fit of final designs, rather than capturing concept designs. As well, the interdependencies of parametric feature-based models can increase the likelihood of potential design failures. Finally, it's worth bearing in mind that some CAD tools deploy different files for different design parts, which can be inconvenient if you only want a single whole representation while still developing the concept.
What does this mean for you?
Although 3D tools are not ideal for rough design ideas, they make it simpler for you to take your 2D drawings and sketches further in the product development cycle. 3D CAD modelling is ideal for enhancing initial 2D designs and then using this work in downstream processes. By combining solutions, you can leverage the advantages of both 2D and 3D to enhance your concept designs.
Want to get both sides of the 2D vs 3D arguement? Then download our free presentation: