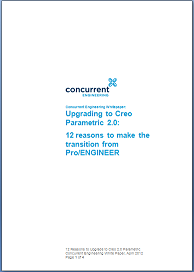 Part of the Creo 2.0 Parametric upgrade means users can now clearly define 3D annotations as part of their design framework. It's now simple to include and modify 3D annotations on 3D models, capturing design intent as annotation elements or notes.
Find out the impact of 3D annotations in Creo Parametric below or download our free guide to discover the 12 reasons you should upgrade to PTC Creo 2.0 Parametric.
Defining 3D annotations in Creo Parametric
Inputting annotations in Creo Parametric is made easy with the pre-defined annotation planes in the system. When users define a 3D annotation, the system is automatically able to determine which plane is most appropriate for this annotation. Plus, these annotation planes are also fully customisable, to suit the specific requirements of design.
Importing and displaying 3D annotations
Importing and displaying annotations in a 3D environment now behaves like annotations in a 2D environment. To import annotations, users simply choose the features they want to annotate and select show annotations. Creo will also automatically use the best plane for these annotations. Users can then select the annotations they wish to include or reject.
Using combined states with 3D annotations
Enhancements made to 3D annotations in Creo Parametric also include impressive improvements to combined states. Users are now able to make and utilise multiple combined states. As users make additional combined states, these are simply added to the tab bar. By placing the cursors over a tab, a thumbnail preview appears, making it easier to activate and move between combined states with 3D annotations.
Want to find out more about the remarkable Creo Parametric upgrade? Download our free whitepaper