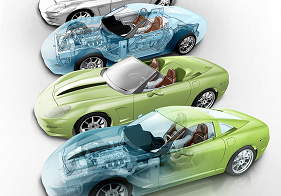 The recent release of Creo 2.0 by PTC has significant updates to the current Creo apps and also introduces a new app.
The upgrade offers product designers new tools and capabilities to enhance the design and development process. In this blog, we outline some of the main enhancements made to Creo Parametric as part of the Creo 2.0 launch. Alternatively, get the full low-down with out guide 12 key reasons to upgrade to Creo 2.0 Parametric.
What's changed in Creo 2.0 Parametric?
Across the whole Creo range, there have been over 490 updates. These have been made to enhance the capabilities of the range and improve the design productivity achievable with Creo. Significant improvements have been made to
Creo 2.0 Parametric
, including:
Improved cross-section designing: Achieve complete visualisation of product designs with improvements to cross-section tools. These enhancements offer product designers with a fuller understanding of their design, providing immediate access from the model tree. Plus, the advanced interference recognition allows for early detection of any potential problem areas.
Enhancements in freeform capabilities: Product designs can now be made with increase surface refinement and improved detailing, all while sustaining the management of the freeform object.
Efficient measuring tools: Access detailed data of the vital product dimensions and measurements of any particular surface. Product designers are now able to enhance and better control how product measurements are utilised throughout the design stages, by managing the how measurements are shown and where these measurements are viewable in other programmes, for example Word.
Why should you upgrade to Creo 2.0?
The enhancements made in the Creo 2.0 Parametric release increase efficiency in product design. Particularly for those still using Pro/ENGINEER, Creo 2.0 Parametric has over 100 capability improvements not found in Pro/ENGINEER Wildfire 5.0.
The new tools decrease the total time necessary to transition from initial concept designs into finished artwork and product. At the same time, these are balanced with improved usability, to make the design process more intuitive and collaborative, all of which are essential for modern product development enterprises.
Discover for yourself the 12 key reasons you should upgrade to Creo 2.0 Parametric by downloading our free whitepaper today.