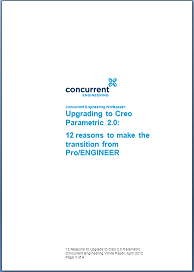 Before investing in new design software, you want to know how it will impact on your design work. To help, we've compiled the 7 key capabilities of Creo Parametric for enhancing design performance. Or, alternatively, download our free guide to Creo Parametric, for the 12 reasons you should upgrade.
#1 Flexibility in concept design performance
Decrease the time spent on concept design work by using the FreeStyle feature, which allows you to easily design freeform shapes. It works by using subdivision-modelling technology. This means you can start off with basic forms and then add to this, creating a more complex design. Also, this feature allows you to reuse data in later design processes.
#2 Enhanced usability
By improving the user experience, designers achieve significant productivity improvements and enhance design agility. You can improve your performance in core modelling, as well as work with imported data. Plus, there's also the option to customise the Creo Parametric interface, to set it to your personal preferences.
#3 Improve work in assembly design performance
The complexities of handling large assemblies are now more manageable, as a result of a key Creo 2.0 Parametric upgrade. It utilises ProductView to allow users to modify their designs faster. Also, it is possible to comprehend the full assembly using the 'Track Changes' feature.
#4 Quicker sheetmetal work
It is now simpler to create sheetmetal designs. Features, such as dynamic editing and streamlined workflows, mean you spend less time on sheetmetal work and can increase your productivity.
#5 Superior note-taking
Creo Parametric includes a specific section for adding notes and annotations. Instead of having to separate out the design from the design notes or annotations, you can now store all the important design notes as part of the design.
#6 Easier access to legacy work
By using the Creo Legacy Migration Extension, it is now simpler to access design information from other systems and reuse this CAD work. This removes any need to recreate 2D drawing by hand, which will save users time and also decrease mistakes.
#7 Advanced virtual simulation
It is now easier than ever to analyse and calculate how a product will perform from the design, by utilising the advanced simulation features within Creo. It means that any potential problem areas or design flaws can be identified at an earlier stage in the design development.
Want to find out for yourself how Creo Parametric enhances design performance? Get the essential guide to upgrading to Creo Parametric