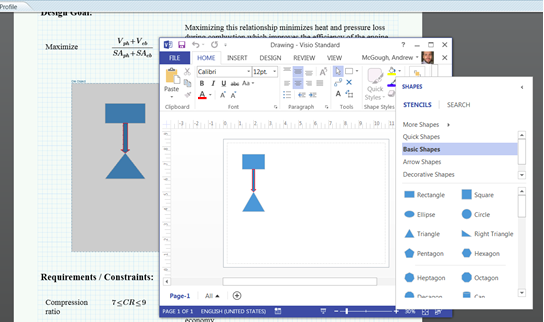 In this blog post, we're going to take a look at one of the most impressive new additions to Mathcad Prime 4.0 - Object Linking and Embedding (or 'OLE' for short).

What is OLE?
Originally developed by Microsoft, Object Linking and Embedding was built to enable data and objects to be shared between a variety of applications. When it comes to PTC, OLE allows Mathcad to become a container, in which you can embed additional applications and objects.
OLE was incorporated into Mathcad Prime 3.1 to a degree, but in version 4.0, there is a far more extensive implementation of OLE support for third party software.
OLE in action
Let's consider an example of OLE in action within the latest version of Mathcad.
Say you've sketched an I-beam in an external application such as Visio and need to embed it within a Mathcad worksheet. With the power of OLE, this becomes an incredibly simple process. The Visio object can simply be added to any Mathcad worksheet, as can Microsoft Paint files and even PowerPoints slides. No fiddling or manual work required - just a few clicks of the mouse and you have an embedded file!
What can be embedded with OLE?
The great thing about the OLE integration in Mathcad Prime 4.0 is that there's neither a restrictive nor definitive list of file types you can embed; general support for OLE objects is included as standard within this engineering calculation software.
If you rely on a piece of third party software that sits alongside Mathcad Prime in your organisation and it can be used as an OLE object (the vendor should be able to confirm whether or not this is the case), it will show up as a potential object within Mathcad Prime. This means that as OLE support widens, Mathcad Prime will gain compatibility with supported software instantly and without the need for an update.
Generic support for OLE delivers significant returns in productivity and time that would otherwise have been wasted attempting to 'glue' two systems together manually. That means more time for engineering work and less spent switching between different applications in order to manipulate images, hunt for files or read disparate data.
By embedding objects within your Mathcad Prime 4.0 worksheet, you can keep all of your engineering documentation in one place.
Mathcad Prime 4.0 brings with it a huge array of new features, but the OLE integration ranks among the most impressive. It enables you to extend the functionality of existing third party software and enables engineering teams to move to Mathcad as a full service engineering notebook.
If - like so many organisations - you still rely on Microsoft Office to produce and manage your engineering documentation, the Mathcad Prime 4.0 OLE features will save you a significant amount of time and enable separate departments within the business to work far more coherently.
Mathcad Prime 4.0 represents a seismic leap in the capabilities of engineering calculation software, and although we've only skimmed the surface of just one of the features in today's post, you can find out more by contacting us today.