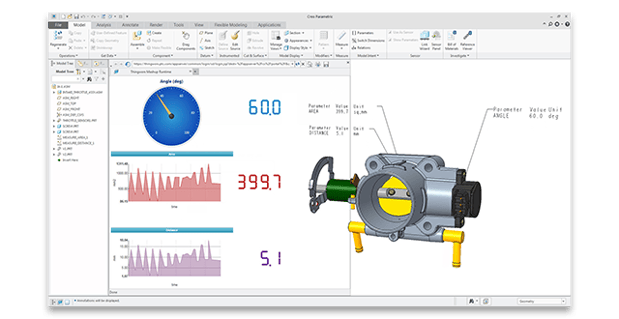 There was a time when product manufacturers had to rely solely on 2D drawings and documentation during the design process. This often resulted in product data becoming inconsistent as it travelled from department to department.
No matter which way you spin it, that's never going to end well.
For a product to be delivered on time, within budget and built to the highest possible standard, there needs to be a single source of truth in the design.
Thankfully, with model-based engineering, the need to rely on 2D documentation is eliminated. Instead, product designs travel through the organisation entirely in 3D. What's more, with the introduction of augmented reality, designs can be viewed within their real-world environments even before they reach the prototype stage.
Creo 4.0 has model-based engineering at its heart and gives companies the ability to drive product data through the organisation in a single form. The update is so powerful, that it could in fact be the one tool that helps you transition to a model-based enterprise.
In this post, we've picked out three key areas in which Creo 4.0 takes model-based definition (MBD) to new heights.
Removes misinterpretation
If a design travels through an organisation like a Chinese whisper, everyone may as well be working on a different product. With MBD sensibilities built directly into Creo 4.0, designs can be properly annotated and constrained, thus eliminating potential errors during production that are a result of misinterpretation. This in turn ensures there are no breaks in production due to missing information.
Helps users comply with industry standards
In Creo 4.0, users are guided through the process of applying annotations to models. This ensures designs are properly annotated and conform to the appropriate standards, removing any chance of costly re-designs (and brand damage) after the product has been shipped.
This is model-based definition that offers complete confidence, because users can rest safe in the knowledge that the annotations applied to their designs have constrained the geometry of the model.
Introduces augmented reality
Imagine being able to see your design as if it had just rolled off the production line. Even better, imagine being able to walk around and even through it in order to take a better look at the individual components, without having to invest in expensive prototypes.
In Creo 4.0 you can do just that, thanks to the introduction of augmented reality. This takes model-based engineering to a completely different level and gives everyone within the organisation the ability to view and interpret designs in their finished form.
Augmented reality joins new design visualisation features in Creo 4.0 that provide designers with photorealistic renderings that leave no doubt as to exactly what the design will look like when finished.
Bring continuity for your designs
The MBD approach fosters continuity in design, and with Creo 4.0, teams can work from a single model that is properly annotated and constrained, thus removing the potential for misinterpretation.
There's no escaping the fact that this is a seismic leap from traditional design methodologies, but the beauty of Creo 4.0 and its implementation of MBD is that it eases the transition from 2D drawings to 3D models. That allows the traditional to live happily alongside a new era of design whilst still retaining that all important single source of truth.