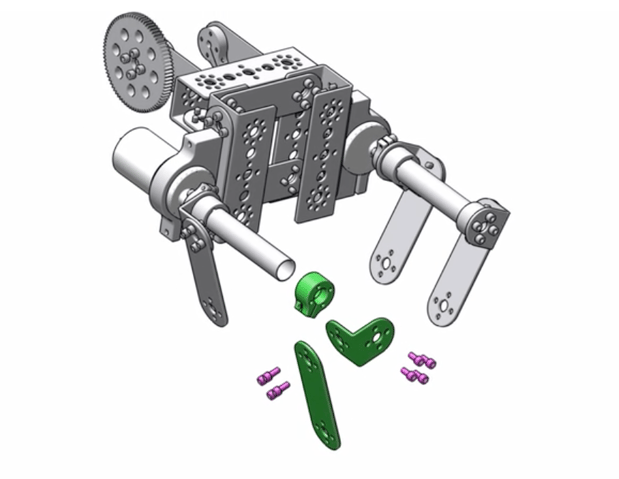 In this blog post, we'll be looking at how you can gain value from your CAD data, both in terms of service and delivery. The aim is to give you an introduction on how CAD data reuse can enable you to quickly and effectively create technical illustrations for service and after sales. This in turn will help you reduce your product time to market and use your time more productively.
Creo Illustrate forms part of the service delivery stream. It is typically aimed at service professionals, though it is just as applicable to production professionals who are tasked with creating work instructions and technical illustrations content.
The four key themes that we're looking at as part of this blog post are:
How you can rapidly provide 3D information from your exisiting engineering designs: This includes from dispirit, different CAD sources - whether it be Creo, SolidWorx, Inventor or STEP files

How animated sequences can be created: Today a 2D static image isn't necessarily the best form of media. Instead, an animated sequence showing how a product might be assembled, or as part of a service guide showing how to replace a component, is more valuable to the end user

How you can associate your 3D illustrations with the underlying CAD data to maintain alignment with any design changes that might take place and also enable you to review the impact of that change

How can you integrate your illustrations into your data management. If you're managing your CAD data then the illustrations and rich technical information that you create also needs to be managed as well
How can Creo Illustrate provide value?
CAD reuse
By utilising a tool that gives you the capability to manage all the different types of CAD geometry, you can reuse and increase the value of the CAD geometry that is created by the design department. This can be reflected in accurate and up-to-date illustrations and also provide you with the latest information that is being produced. Overall this can help cut the production costs and the costs associated with creating service material.
Increased productivity
This makes your staff more productive and because you're leveraging the CAD resource, you can help reduce translation requirements into localisations - literally where a picture speaks one thousand words.
Reduce maintenance times
This enables you to provide easy to understand 3D illustrations, it enables you to take text away, save the burden of people having to read through the text when they can instead see the picture and an animation. It eliminates wasted time, searching for service information in static or generic technical documentation
Improve customer experience
By providing up-to-date technology, with the latest capabilities; being able to deliver that interactive 3D experience for service and part information. This will give you greater adoption and greater customer satisfaction for your products.
Behind all of this, PTC is defining new ways to reuse 3D data, illustrations and animations. Whether this be by multiplatforms and mutliformats, including 2D, 3D and Web.
The potential of augmented reality


And exciting new approach that PTC is bringing to the market is bringing together digital information, which we have been looking at in this blog post, with the physical products out in the field. We can reuse the content created from the 3D data to be actively used in an immersive, interactive environment. Businesses today are looking at this capability, to strive forward and take on-board the capability of augmented reality. The availability of CAD in today's businesses enables the rapid creation of specific 3D renditions for use in service procedures or assembly instructions that are easily available.
To find out more about gaining business value from your technical illustrations, watch the On Demand webinar: Gaining Business Value from Creo Illustrate