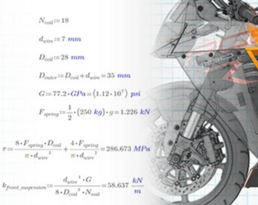 The advanced capabilities of PTC Mathcad Prime 3.1 allows engineers to record and collaborate on calculations and design work with ease. It is essential software for driving forward innovation and enhancing productivity for both individuals and organisations as a whole. Need more convincing? Here are four key benefits to Mathcad that your team ought to know:
Benefit

1:

Mathcad Prime 3.1

i

ntegrat

es

with

Microsoft Excel
Using Mathcad means you can benefits from the native integration with Microsoft Excel, making your life a lot easier when it comes to sharing data. It works through an embedded Excel component in Mathcad, allowing users to combine the capabilities of Mathcad with the familiarity of Excel.
Benefit

2:

It

allows you to use

symbolic calculations
Mathcad allows engineers to use general mathematical principles in symbolic calculations. It also introduces specific numerical results, as and when needed, so engineers are able to freely explore (knowing that both symbolic and numeric calculations remain alive as inputs or formulas change).
Benefit

3:

It

allows you to create

3D plots
Those who use Mathcad will know that you're able to leverage qualitative and quantitative mechanisms to visualise complex data sets, which adheres to Mathcad's principle of direct manipulation. This means the software creates an efficient environment for exploration, all within the Mathcad environment.
Benefit

4:

It provides collapsible areas
Collapsible areas are an efficient organisational tool, allowing users to place live calculations in sections that can be hidden from view. This simplifies the worksheet, so you can share the document with non-technical colleagues and/or people who only require a high-level view.