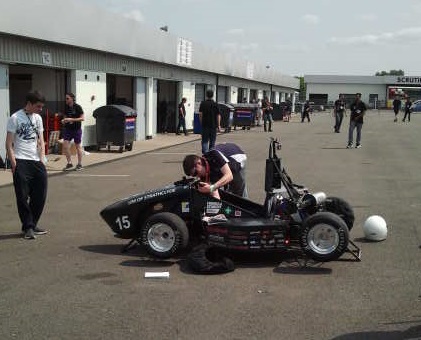 Over 3000 university engineering students from all over the world will descend on Silverstone this weekend. Teams from as far-flung places as Australia, South Africa and Sri Lanka will meet to compete for the top spot at the Formula Student competition.
Run by the Institution of Mechanical Engineers, Formula Student aims to help students fill
gaps in their practical knowledge as well as unleash their creativity.
It is hoped that the competition will enhance students' CVs and provide them with skills to make them more employable by providing them with on-hand experience of car designing, building and testing.
Teams have to produce a prototype for a single-seat race car that is suitable for bothautocross and sprint racing before pitching their ideas to a board of judges. They are judged on costing and project management as well as the prototype's performance on the track in both static and dynamic events.
"Formula Student is the best educational engineering challenge," says Andrew Deakin, Chairman of the event. "Assessment of the car at the competition enables them to fully understand the strengthsand weaknesses of their creation. This is excellent preparation for working in the industry."
This high-quality practical experience is becoming more and more desirable with the
growing lack of skilled workers in the UK engineering industry as a whole.
The 2016 Engineering UK report found that incidence of Skills Shortage Vacancies (jobs that can't be filled because of a lack of skilled candidates) was at 23.9%, double that of all other industries.
As a result, the competition attracts both engineering talent and global employers such as Jaguar-Land Rover and Mercedes, alongside other non-automotive companies.
This provides students with the opportunity to interact with industry professionals and for employers tosource the best engineering talent. 130 universities from around 30 countries are expected to attend this year, including the University of Bath who came fourth in 2015 and were the top UK university of the competition.
"What I find most appealing about Formula Student is the innovation that it encourages,"says Ross Brawn, former Team Principal of the Mercedes F1 Team and Formula Student patron.
"Whether the competitors go in to motorsport or a different sector of engineering…Formula Student will help towards their future success."