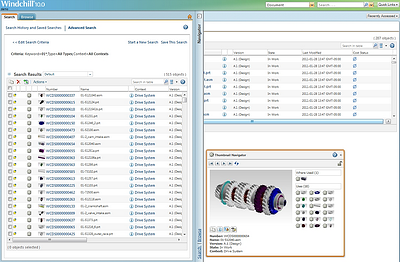 In today's global business world, every company is looking for ways to increase productivity, increase market share, and decrease costs. One of the key ways to achieve this is to have an integrated, real-time overview of where the company's resources are, where they are going, and where there might be problems.
How do you decide what PDM means for the bottom line of your business?
Central control and access –

Modern business often means design and development teams working in different areas, buildings, or even on different continents. This can create time lags in design and production; it opens room for errors in the design; and increases problems with version control. PDM allows access to information on a product for any member of your team anywhere in the world, reducing errors, speeding implementation, and keeping your data secure.

Retrieval and reusability –

Time spent searching for information on a current or previous design is productive time lost. Keeping all your product data in a central location allows for fast retrieval of specs at every stage of the product lifecycle. When appropriate, it also allows for easier reuse of the designs as a basis for other projects, reducing production costs and design time for new product lines.

Managing compliance –

Government and industry standards are part of modern manufacturing. Failure to correctly manage for compliance leads to increasing costs and missed deadlines. Product data management can integrate regulatory compliance directly into the workflow process. Placing these requirements into the product data from the beginning reduces the need for costly redesigns, and assures your new product goes to market without legal complications.

Analysing ROI –

Lacking a comprehensive picture of the profit/loss performance of your products leads to lost opportunities for growth. PDM gives you the tools to determine the profitability of products in contrast to other product lines, allowing efficient allocation of resources and cost reductions.

Downstream efficiency –

PDM provides the foundation for downstream implementation. For example, the data provided allows your marketing teams to build campaigns with accurate specifications before the product is in full production.
For your business to stay competitive, you need to learn from mistakes and build on successes, but first you need information. The need for analytics on process performance during product development and product performance once it goes to market are increasingly recognised tool for business growth. PDM can incorporate best practices developed from process tracking as well as after market analysis, customer response and suggestion, and product problems to provide your management team valuable insight for future product development. These analytics give you the knowledge to make sure that while your current products are the best they can be, your next products will continue to be your best products.
Business in the technology age will continue to trend toward speed, efficiency and cost-effectiveness. If your business is struggling or you just want to improve in any of those areas, investment in good product data management will pay off by improving your business's competitive edge. PDM could even be the piece that takes your business to the next level.
Want to find out more? Download our free guide to best practices in product development: