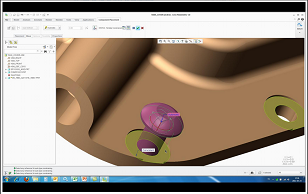 Until recently the use of direct modeling was limited to animation. But, now, designers of all types are starting to use direct modeling. Improvements in the tools now mean it is easier that ever before for designers to create the products that their customer's want.
What exactly is direct modeling?
Before we get into a discussion of why direct modeling is useful, it might be helpful to understand what exactly it is. Put simply, direct modeling is a CAD method that allows designers to interact directly with the geometry of the model. This means they can manipulate it by pushing, pulling, or twisting.
So, unlike parametric modeling, where a feature's final geometry has to be built into the steps that create the final model, direct modelling allows the features geometry to be modified without having to edit the interim model stages.
What are the advantages of direct modeling?
One of the most profound ways that direct modeling is changing the way people design is due to its ability to create complex surfaces on the fly.
Today, consumers demand more than just function from a product. They want products that look beautiful. In the past, creating the flowing, complex surfaces, which help people identify with a product, took a lot of time and effort.
To create this complex geometry, multiple sketch entities had to be linked together, to form and guide a surface along a desired path. But, with direct modeling, simple geometries now can be pushed, pulled, and twisted to create any shape imaginable. Because creating complex geometry is becoming much easier, it's allowing design teams to quickly a greater range of designs for each product.
With the help of this new paradigm, design teams no longer have to settle for a design. They can now push the boundaries of what is possible and create more desirable products.
How does direct modeling integrate with other CAD tools?
But, direct modeling isn't just about designing beautiful products that people want to buy. Direct modeling also gives you the power to modify previously created parametric designs without surrendering any of the model's important dependencies. Because some CAD software now has the ability to take a parametric model and import it into a direct modeling environment. This means that making critical or dramatic design changes doesn't have to be an uphill battle.
This type of flexible modeling gives your design team the ability to preserve all of the hard built constraints and dependencies, while also leveraging the advantages of on the fly design modification. And, that can be critical when it comes to making late-stage design changes, using non-native files formats, or having to update older models where the design intent has been lost. All of this capability is available with the Creo Flexible Modeling Extension for Creo Parametric.
To find out more about agile design and the potential of direct modeling, download our free eBook today.