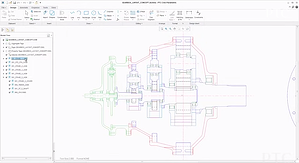 PTC Creo 3.0 is now here. But what does this new release mean for designers and engineers? As the latest release of Creo continues to deliver greater power and more flexibility to support the acceleration of the product development process, we evaluate some of the headline benefits of this new release.
Unite Technology – what is it and what does it achieve?
With the introduction of Unite Technology in this release, there is an increased focus on helping you work more effectively with data from multiple CAD sources. Unite addresses the challenge of data migration, with the ability to easily import or open non PTC Creo files. This will enable organisations to consolidate onto a single CAD platform. In Creo 3.0, users can simply convert data when they need it. To enhance collaboration with any product development partners, Unite Technology provides the means to easily incorporate non-Creo data into your designs, without creating new CAD files to manage. This powerful, industry exclusive set of capabilities enables you to create and maintain design intent between Creo and non-Creo data throughout the product development process.
What are the key product improvements?
Concept design is a significant focus. To create an environment of innovation, it's critical for design teams to fully leverage the efforts that go into concept development. They need tools that do not create barriers between these critical functions.
This release improves the dedicated concept development toolset. Plus, it further enhances the seamless flow of design intent between concept and detailed design.
For people using Creo Layout for 2D in concept development, there are now new design tools and improved scalability through the introduction of concurrent layouts.
PTC Creo Direct also matures significantly in this release, with the addition of new and more powerful modelling tools, and a broad array of assembly workflow improvements.
A new addition to the toolset, PTC Creo Design Exploration Extension, enables the quick and easy investigation of alternative design concepts, within PTC Creo Parametric. Using checkpoints, you can periodically save critical design milestones to create design branches, eliminating the need to manage multiple versions of data and allowing you to move seamlessly back and forth between design alternatives.
What are the Core Enhancements to Creo 3.0?
New enhancements have been introduced to add functionality and increase productivity. These include improvements in areas such as user experience, core modelling, manufacturing and simulation. All this makes it easier to do everyday tasks, allowing product development teams and organisations to focus on higher levels of innovation and product quality. Here are just a few of these enhancements:
This release of Creo delivers an optimised user experience that greatly improves fastener assembly workflows, combined with extensive hardware libraries.

There are significant improvements in the ability to analyse problems in PTC Creo Simulate. For plastic part design, we have greatly enhanced our capabilities to perform mould filling simulations and draft checks, and we have also added a new 3D thickness check.

Finally, in our manufacturing solutions, we have introduced customer driven enhancements, including improved multi-task machining synchronisation. Plus a new PTC Creo Harness Manufacturing Extension will provide huge efficiency gains, in the creation of harnessed manufacturing drawings and documentation.
These are just some of the many highlights in PTC Creo 3.0. We're excited about all the new capabilities offered in this release.
To find out more about what's new in Creo 3.0, join us at a launch event near you: