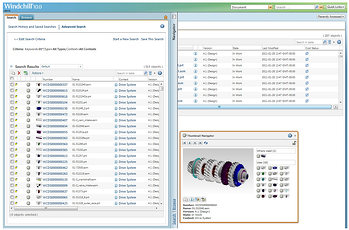 Any product development process will involve numerous drawings and models. These come from different stages of the product development. But they all need to be stored and managed in a way that makes it easy for anyone to find the version they are after. Having an effective product data management (PDM) tool means companies can have a full understanding of all the drawings and models relating to an individual product both during and after development.
What are the typical stages involved in product development?
It starts with concept design. During concept design, there are lots of alternative options that we want to explore. This is to make sure that the final product answers the design challenge. The concept designs can be both a new idea and also an existing idea that has been reworked to meet the new design challenge.
It could have started from a single sketch, a larger collection of sketches, a single model or a selection of models. The more concepts that can be explored the better. Then, we can select the best one to move to the next stage of product design.
Once we have the concept, it's time to pass it onto engineering. They then look into how to turn this concept into a product. This means more models, more revisions, and more versions. There will be models for the individual parts, sub-assemblies, and even the full product assembly. There could even be parts from suppliers that have to be included in all of this.
So, now we have a product that has gone through a two part design development process. But, we're still far from having the completed product. In many companies, we'll now need to test and validate the design. This could be through simulation and analysis. Even more models are generated at this stage, as we optimise the design, to ensure that it meets all the requirements.
Then, once this stage is complete and the design meets all the requirements, it comes to the manufacturing stage. But, for this to happen, more models and more drawing are required, to design the molds and tools that are used to make the products.
To get our product to where it needs to be, we've gone through 4 separate processes. As a result, there is now a substantial paper trail, all relating to just one product. Without proper management, all these drawing and models end up scattered throughout the company.
How can companies manage this product development paper trail?
Relying on personal filing systems are ineffective; what happens when someone is away or busy? How about using a shared filing system? Well, the files in these can be easily overwritten, meaning someone has to go back and recreate the work again. And, just because they are all in one place, doesn't mean they'll be easy to find.
What you need is a management tool that gives you a complete handle on your product data- a product data management (PDM) tool.
How does PDM work?
PDM can help organise the data across your team, help protect it, and make it fast and easy to find a design through powerful search capabilities across projects and products. For example, you can easily find all the design submitted by an individual for the last project they worked on that are designed in a specific material.
Nowadays you can install, configure and train your team on PDM in less time than ever before. Whether you team is small or large, local or global, PDM gives you the assurance.
Want to find out more about how PDM could work in your company? Contact us today to talk about your requirements.