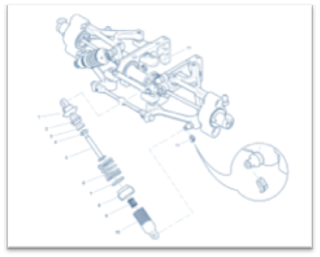 You know that, as a manufacturer, it's a tireless process looking for ways to improve efficiency and get products to market faster than ever before. One way which you can do this is by bridging the gap between CAD applications and technical publications.
Traditionally, in many companies, there has been a divide between the team creating the engineering drawings and the team creating technical illustrations. Problems really start to emerge because of poor information sharing. This means teams end up working with out-of-date information, rather than the latest version of the design.
Improving this process and bridging the gap means that technical illustrations and product documentations can be developed, even before the product design is finalised.
Here are three simple steps you can take to optimise this process:
#1 Enable your technical publication team to access information directly from your CAD system
By allowing access directly to the CAD files, there are two benefits. Firstly, you no longer need someone from engineering to export and share the files, saving you precious engineering man-hours. Secondly, you have access to all of the latest product information, all the time. So, the risk of producing documentation from out-of-date product information is managed.
#2 Automatically capture the most recent product design information
Secondly, by integrating a concurrent process, design information is capture and internalised automatically in illustrations as teams make changes or updates. This eliminates redundancy and makes product documentation readily available.
#3 Updated publications as product designs change
It's what is says on the tin! As product designs changes, their documentations are updated accordingly. This has huge benefits for the organisation as a whole, improving overall customer satisfaction and producing high-quality publication material. And of course, efficiency is increased, due to the publications are dynamically updated as information changes.
Arbortext IsoDraw is able to take range of CAD data and then use this information to help you produce technical illustrations, from the likes of Creo, Pro ENGINEER and SolidWorks. It provides illustrators with easy access to 3D data, meaning that:
- It offloads illustration preparation from engineers
- It enables extensive manipulation functions for 3D models
- It provides an associative link with the original CAD file
- Whenever CAD models change, the illustrations will update automatically
- The technical illustrations can start at an earlier stage
As a single software tool, IsoDraw equips you for all your 2D and 3D illustrations needs and helps increase productivity and keep engineers from doing illustrative tasks.