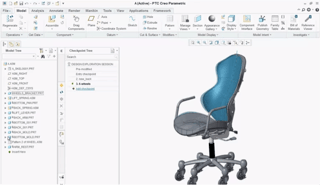 Having to work with non-native CAD files can be a frustrating process, and what makes it
worse is having a project deadline around the corner. You have CAD data that you need to
work with but it was created in a different CAD tool to the one you use in your organisation.
But don't beat yourself up about it, there are solutions out there to help with the problem.
A recent PTC survey discovered that:
Nearly half of people utilising CAD systems found it difficult to import models from

other 3D CAD systems

And a further 10% found it difficult to modefiy these models once they were in the

CAD systems.
Having a tool that enables you to work with non-native CAD data, without having to
recreate certain parts, can save you time and money. With Creo you can open design data
from a range of CAD programmes.
#1 Design teams are empowered
There are huge benefits for your engineering teams, enabling them to work on multi-CAD
projects with all the latest design information. This means you can avoid errors, which are
both costly and time-consuming.
#2 Non-native files are easily assembled
In Creo, non-native files which can be easily
assembled and referenced to other geometry. They can be put into the context of the entire
assembly and then you can establish the intelligence in the imported geometry.
#3 Creo assists with pattern recognition
By selecting a piece of the pattern, Creo can find and establish the design intent. Once this
pattern has been recognised, you can use it to assemble imported or native components
multiple times. This process can be completed quickly for parts, such as bolts and screws.
#4 Create new geometry within the multi-CAD assembly
Creo helps you work with native and non-native files through some of it's in-built features.
For instance, you can quickly create new geometry within the context of the multi-CAD
assembly by referencing various design details and features. So if you want to use an
existing 2D profile, you can further define this geometry with Creo.
#5 ATB technology reapplies design intent
To keep your design up-to-date, you can use Associative Topology Bus (ATB) technology to
maintain the association with the original non-native file. When an update is received, the
ATB technology propagates the change and reapplies the design intent. This helps you
visualise all components within the multi-CAD assembly, establish relationships between
native and non-native components, and integrate updates to non-native files.
All of this means you can collaborate more effectively with suppliers and partners who are
using different CAD systems. Not only does this eliminate errors, it also avoids timely re-
works. Therefore, investing in multi-CAD data is well worth your time because it'll save you
time in the long-term, shortening your overall design cycle.