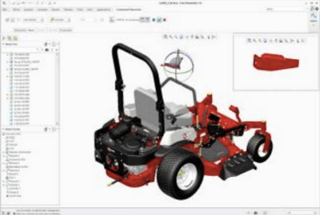 We've all been there, the deadline is approaching and our projects are falling behind
schedule and last minute changes give us a headache. But Creo Flexible Modeling enables
manufacturing organisations to make those late changes (which need to be made quickly,
and simply) without a fuss.
PTC discovered this problem with their recent survey of 7000 manufacturing organisation,
and found that:
44% of respondents experienced excessive, unanticipated changes

38% experienced dramatic or multiple changes during the late stage of design.
Make changes without approval from the original designer
Even if the engineer who created the model isn't available or the model has passed onto
someone else, you can still progress and make the changes you need, using Creo Flexible
Modeling. There's no need to spend hours trying to interpret or recreate the model.
Reflect the brief and make the right changes
When it comes to dealing with late-stage design changes, we can make quick and easy
modifications to mature models with a long, detailed model tree. Making quick changes
ensures our models meet our design intent so we can reflect exactly what we need for our
CAD models.
Creo tools enable you to use Multi-CAD formats
With Creo tools, you can work with multiple CAD formats or from any CAD system. So once
the files are into Creo, you can manipulate them, edit them and make all the necessary
changes, how ever late they may be.
Creo Flexible Modeling not only gives you the functionality of being able to edit and change l
egacy data, it can also be used actively on Creo models. This supports the dynamism of
engineers of today, helping you stay on track with your day-to-day tasks. Should a last
minute meeting about the design brief change, this shouldn't cause major panic. Using Creo
Flexible Modeling can eradicate any worries, and to support those last minute design
changes you didn't think were possible.
So it's time to integrate a responsive design team into your processes and keep your
projects well on schedule without any excuses!