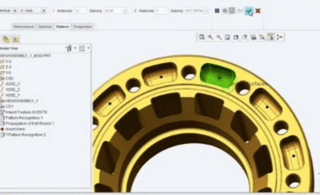 Coping with late stage design changes is one of the most common challenges facing modern engineering and design departments. As you probably already know, many design changes occurlate in the process. Often, many months after the original design was created. Late stage design changes can be a real problem for companies. But there is hope, and tackling this challenge with Creo Parametric makes the process somuch easier, meaning your designs won't underperform.
#1 Unanticipated changes won't steer you off track
Unanticipated changes can be very time-consuming, disruptive and put huge amounts of unnecessary pressure on your project schedules. Often, this can result in project teams having to work overtime or even into the weekend to make sure that a project is finished ontime, especially if the change is going to radically alter the geometry of the part. But this doesn't have to be the case with Creo suite of software tools. By using a series of Creo Parametric tools, specifically Creo Flexible Modeling, your designs can be manipulated without causing disruption to your schedule.
#2 Unclear design intent doesn't have to get in the way of productivity
Sometimes the design intent of a product isn't always so clear. Imagine, for example, that you need to make a change to a model but the design intent is now obsolete, or there wasn't design intent in the first place. Or, perhaps you've imported the design from a different CAD tool and there are no features or parameters. Nonetheless, you still need tobe able to make changes to the design. This is where Creo tools can save the day. Creo enables you to build those features and parameters quickly by working with neutral CAD formats, allowing you to manipulate, editand make the necessary changes without the added worry of slowing productivity down.
#3 Differing modeling software is no longer a problem
Even though you didn't make the model, it doesn't mean you can't make easy modifications. In a survey of 7000 manufacturers, 39% have difficulty making changes to models that were created by other people (Source: PTC). But did you know that Creo Parametric enables users to modify design even if you didn't create the original file? This enables teams to work on designs, despite the differing modeling software, pushing the project forward. As the project deadline approaches, theres no need to panic, knowing that you'll be able to handle CAD data from multiple sources