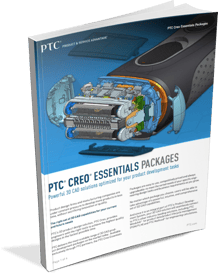 It's well known that having the right tools in place is essential to meet growing competition and also take advantage of new market opportunities. In an increasingly competitive market place, you'll want to make sure your engineering team has what it needs to be a success.
A great place to start is to ensure you have the right product design software for your needs. After all, what was working for you yesterday might not be the right solution for you today.
Achieving this doesn't have to be hard. In fact it doesn't even mean you have to buy completely new software. Simply by upgrading your current package, you can start to access more advance design capabilities.
Here are three good reasons you don't want to wait to upgrade your Creo installation:
#1 Stay ahead of the curve with a software package that allows you to get more done
Product design firms and manufacturing companies are under constant pressure to develop more products in less time, without sacrificing innovation or quality. With upgrade packages, you can add new, productivity-enhancing capabilities like flexible modeling, integrated PDM, piping and cabling design, and advanced assembly design to your product development environment. All this means that you have more design capabilities and more options, enabling you to get your products to market faster.
#2 Have the tools you need for today...and tomorrow
Available exclusively through PTC partners, the PTC Creo Essentials Packages are easy to use, competitively priced and always upgradeable–to meet the varied needs of your specific engineering design tasks and business requirements as you grow. This gives you the flexibility and choice to tailor your design software to your needs. Because PTC Creo upgrade packages aren't a one size fits all option, you can pick the one that perfectly matches your business.
#3 Upgrade before end of September 2015 and save 35%
Between now and the end of September you have the opportunity to modernise your Creo installation to increase the productivity of your users and potentially reduce ongoing cost of ownership. The 35% savings offer is valid for any PTC Creo Package Upgrade. Now is a cost-effective time to upgrade.
Upgrading an existing seat is a cost-effective way to add capabilities like Flexible Modeling, integrated PDM, or Simulation. And with the additional savings available, it's an excellent time to review your engineering needs and see if an upgrade will benefit you now or in the near future.