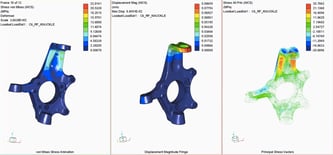 When designer engineers need analysts to validate the designs that they're working on, there are a couple of challenges that can get in the way. First of all, you need work to the analyst's schedule. Second, it can be difficult to quickly and efficiently address any design issues that emerge as a result of the analysis.
With Creo, designers can quickly and easily validate their designs.
Say you want to analyse the structural integrity of a specific part. Instead of necessarily having to always go to the analyst to complete this, you can actually run your simulation within Creo. You can independently add loads and constraints and monitor the impact that this has on your design. Because of the strong associativity in Creo, the analysis is actually performed on your native 3D model.
From this, you are then able to see:
Graphic visualisation of the simulation results, which are intuitive for the design engineer to use and understand.
You can view an animation of the displacement, contour plots of stresses on the part and even isolate the loads.
View the simulation results from the most loaded to the least.
Determine which areas you want to modify, back in the design environment.
Because of the strong associativity, you can go back to the design environment seamlessly to modify the part.
Once you're back in the design tool, you can then add and remove material from different areas, to improve the design.
Creo makes it easy for designers to identify and correct any issues at an early stage of the design process.
You can optimise the design for different criteria, for example strength and weight. Because you can analyse designs at the earliest of stages, the entire product development process is streamlined.
Again, it's easy to rerun the simulation with the saved parameters to see the impact of the changes you've made and find out if you've been able to improve the overall design.
Because Creo allows you to address design issues early, you can drive costs down, improve quality and reduce time to market.