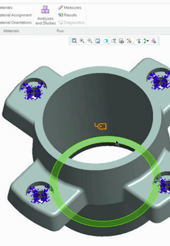 Creo Simulate, part of the whole Creo product family, is a dedicated structural, thermal and vibration analysis tool. What Creo Simulate does is take all of the best features that used to be locked away within the parametric modeling application and split them out into a robust, standalone analysis tool.
What does this mean for users?
Essentially this means that you no longer need to go through all the complexities of learning a CAD tool, just to be able to access the power of the simulation application.
Creo Simulate carries forth and builds upon the investment in technology that was made in the Pro|ENGINEER and Mechanica product families. What's now been done is that all this work and investment, all the capabilities that already existed, have been pulled together and extended to create a tool that meets the needs of today, including features like the new non-linear modeling capabilities, analysis tools and adaptive solution technologies. What's more, they're being delivered in a way that makes sure the user experience is fully optimised for the task of performing structural and thermal analysis.
The benefits of the Creo Simulate application really take a lot of the capabilities that we've all come to expect from simulation tools, including:
Reducing physical prototyping
Design optimisation
Reduce costs
In short, it means that we can now remove a lot of the uncertainty in the design process.
The way that Creo Simulate has been made means that it's ideal for both dedicated expert users, as well as continuing to support the needs of design engineers.