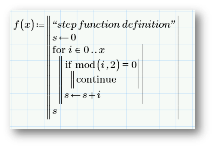 If you're anything like us, you'll be excited to hear that the latest version of PTC Mathcad is here. PTC Mathcad Prime 3.1 has now been launched (and it comes complete with some nice additional features and functionality too). Here are our favourite three updates that we think your should know about.
First of all, with PTC Mathcad Prime 3.1 you'll now get an enhanced integration with PTC Creo (must be using PTC Creo 3.0 M030). What does this mean? Well, for a start you'll be able to embed and edit a PTC Mathcad worksheet straight into your CAD model, at both the part and assembly level. This means that you'll be able to use Mathcad to automatically calculate and drive parameters to make changes to your model. As a result, you'll be able to quickly and easily document design intent using Mathcad from within Creo, offering you a very powerful digital engineering notebook.
As well, the new version comes with a brand new, completely rewritten API, enabling you to integrate PTC Mathcad Prime 3.1 with other software. The new API is more efficient, including new features like the ability to retrieve and define data in different units. So start integrating PTC Mathcad Prime 3.1 with your design software, analysis tools and PDM for a more accurate and complete picture of your product development.
Finally there is now even more pre-built worksheets to help you to get the most out of using PTC Mathcad Prime 3.1
PTC Mathcad worksheets are available on a wide range of real-life examples, across a range of different disciplines and specialisms, all designed to help you to get the most out of your engineering calculations.
Are you curious to try out PTC Mathcad and see how it works for yourself? Get your copy of PTC Mathcad Express today (plus you'll get 30-days free of the full version of PTC Mathcad included).