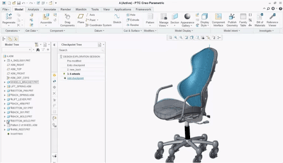 When working within the Design Exploration Extension environment, you can start to plan the changes to your designs. The real benefits of Creo DEX are:
It will enable you to unleash creativity
It means you can evaluate all the design possibilities
It enables you to confidently handle the consequences of complex design changes, interact with those design reviews and efficiently incorporate design changes
It allows you to document the decision-making processes
As you move forward and modify the design, you can create these additional checkpoints. Each checkpoint stores in the incremental model changes since the last checkpoint.
A new checkpoint is always added sequentially. When you add a new checkpoint it is assigned a unique ID number but you can always modify the properties of the checkpoint at any time.
You might want to go back and reactivate a checkpoint at anytime. When you return to a checkpoint all open models are replaced in session with the versions from the active checkpoint, a new branch is created in the checkpoint tree, so when you add a checkpoint and the active checkpoint is not the latest this will branch out into that tree. This enables you to perform the following operations of an active checkpoint, make additional changes and add a new checkpoint to that particular branch, view changes between the active checkpoints and other checkpoints including the pre-modified checkpoints.
When you are ready to make a decision you can accept the checkpoint with the chosen design and then return to the PTC Creo Parametric session, where you can keep that entire session data specified in a specific file. All the model iterations along with the path to this checkpoint will be applied to the models from which you started in the Design Exploration session. Or you can discard and return to the point of entry. This means you can go away and look at the different design options, simply by changing and navigating my way through this particular design session.
If you're not ready yet to make a decision or would like to have a design reviewed by others, you can send this file so they can explore your ideas or even add their own. When the design is finalised, you can also keep these files for documentation purposes in case you may ask yourself, "How did we come up with this idea? What was the path that we followed?" Different design exploration extensions help you easily explore and evaluate multiple ideas simultaneously and manage those complex design changes safely and efficiently.