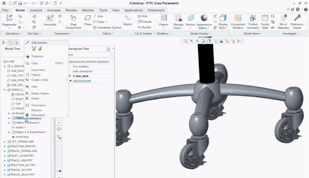 PTC Creo Design Exploration Extension (Creo DEX) helps streamline the process for assessing new designs and deciding on changes to the designs without risking the original model.
In short, it's a sandbox for your design, where you can play around with your models, risk-free, without worrying about messing up anything and without losing any information.
You start by creating a snapshot of the session content. From this point on, any modification to the models can be safely reverted. Then you start changing and evolving your models and capture additional checkpoints along the design. You can instantly toggle back and forth between these checkpoints in a click of a button. The system replaces in session for you the different model iterations, as they were when you created that checkpoint.
This means you do not need to clear your session or change your work environment or manually change the versions of locations. The system automatically switches all model iterations for you, as they were stored in the activated checkpoint.
Once you're happy with certain designs, you can accept this checkpoint and only then are all those changes you have accepted applied to the original models. This allows you to branch off into different directions, develop those ideas simultaneously and evaluate all options before making any final decisions about the direction you want to design to take.
One of the functionalities that comes with Design Exploration Extension is the ability to update control, and this offers valuable capabilities to better predict any design changes. These come in especially handy when working with top-down features like copy geometry or layouts, as they are complex and more sensitive design. A small change can lead to many risky or unexpected changes in the referencing of models.
Now, with Design Exploration Extension, you can easily identify those potential impacts before they change the model, investigate them, and even try them before propagating the change.