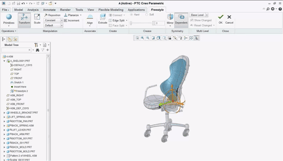 When it comes to your current processes in product development, here are some important questions to consider:
How do you try out different concepts or even different modeling approaches for the same concept?
How do you handle complex concept designs either in your own models or updates made by other users?
How do you evaluate those different ideas and eventually implement those design changes to the finer models?
Changing a product design and exploring new ideas is a technical challenge, especially when developing complex systems with many interdependent components.
Typically, these processes involve manual backups of models to folders, repeatedly closing and cleaning your Creo session and manually revisiting and reviewing massive iterations until making that decision.
This is what concept design currently looks like in many CAD systems
First, you backup your duplicate models to a separate folder to avoid risking the real designs being overwritten – you'll likely be doing this multiple times if you want to try many different variations. Then you start working on those duplicates and whenever you want to revisit different alternatives you need to clear you session, change the folder, reload and so on. And don't forget to take lots of screenshots for your PowerPoint presentations because you'll probably need it for a design review later on.
Soon enough you'll end up with multiple directories in different folders, each with their own different iterations. Now you need to figure out how to manually get all that data from those different variations back into the real model and what goes where.
PTC Creo Design Exploration Extension is targeted to adjust these common challenges that users typically face while evolving new designs or making extreme changes. It helps to streamline the process in evaluating new designs and deciding on changes to the designs without risking the original model.