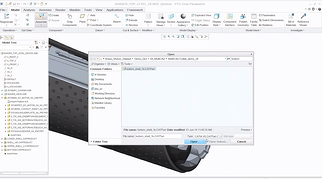 Working with suppliers, customer and even other teams in your organisation inevitably brings with it challenges. You're probably familiar with the difficulties of working with multiple CAD systems and the inevitable problems that come with importing and trying to recreated CAD data.
Unite technology in PTC Creo provides users with breakthrough capabilities to improve productivity in multi-CAD environments. By enabling organisation to effectively consolidate their CAD systems and empower users to collaborate more efficiently across systems, designer and engineering teams are able to reduce redundancies. All this means they are able to improve productivity, product quality, product desirability and ensure products are delivered to market on time. Here are 4 things that every designer needs to know about Unite Technology
1. It allows users to convert data from other CAD systems
Creo users can now convert non-native Creo data. This includes CAD data originally from Autodesk, Catia, NX and SolidWorks. This can all be done without the original authoring CAD system, meaning additional integrations or libraries aren't necessary.
2. It means you can open non-Creo CAD data without the need for conversion
Unlike other 3D CAD systems, Unite Technlogy enables designers to simply open Catia, NX and SolidWorks into PTC Creo without the need to convert it into a Creo object beforehand. Plus designers can incorporate them directly into designs. All this means it is much easier to integrate data. Additionally, no extra files are created.
If the product development task requires one of these incorporated parts, Creo enables users to convert just the part and associated parent assemblies on demand, without needing conversion of all the parts in the assembly.
3. Make changes to converted geometry quickly and easily
Using the flexible modeling capabilities in Creo, making changes to the converted geometry is also simple to do. You can quickly and easily modify the converted part, to meet the design requirements.
4. Use PTC Creo collaboration extensions to further increase the possibilities with Unite Technology
With the PTC Creo collaboration extensions, these multi-CAD capabilities are further enhanced. Designers can now quickly and easily integrate updates to non-Creo data (imported or opened), while protecting the design intent that has already been established. This feature extends beyond just the 3D modeling, to downstream deliverables, including 2D documentations, simulation and tooling.
Additionally, with the PTC Creo collaboration extensions, designers can exchange PTC Creo CAD files in the most common formats (Catia, NX and SolidWorks). Effectively saving the Creo data out as another file format.
These features finally enable organisation to consolidate onto a single platform, with multi-CAD capabilities.
To find out more about the capabilites of PTC Creo, download a free trial now: