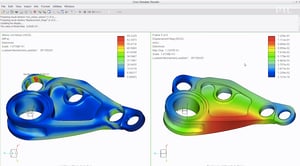 PTC Creo has extensive simulation capabilities, enabling designers to analyse both parts and assemblies. It means you can investigate the structural, thermal and motional behaviour of your designs under real-life conditions. To begin your analysis, Creo provides you with an easy to follow process, which include an intuitive user interface.
Now, to help you get started, here are 6 things you need to know about simulation with PTC Creo.
#1 It's quick and easy to get started
Say you are testing a wheel assembly, you can quickly and easily apply loads to it, to reflect the range of motion the wheel would experience if it hit an obstacle in the road. Being able to complete the analysis on this is simple. While the simulation is running, you can see visual feedback. This enables you to confirm that the loads have been properly applied to the assembly.
#2 Access clear results that tell you exactly what is happening
After you have completed your simulation, you can access the full results, including clear graphs that visually demonstrate the results. This provides you with the feedback you need to understand exactly how a mechanism is functioning, including the dynamic loads generated in the assembly.
#3 Complete analysis on individual parts
On top of this, these loads can be used to perform further analysis on individual components. For instance, you might want to conduct structural analysis on the performance of a component against your set specifications. To do this, you just need to select the material properties from the extensive library, apply the loads to the relevant areas and, finally, apply the boundary conditions.
#4 Apply the automatic mesh generation feature
One of the real benefits of using Creo for simulation is the automatic mesh generation feature. You don't have to do anything. Simply enable the feature to access high quality mesh for analysis. This saves significant time.
#5 Conduct non-linear buckling and dynamic simulation
In addition to linear, static analysis, you can also conduct non-linear buckling and dynamic simulations. Plus, you can also auto-generate reports, to make sharing the information from your analysis easier.
#6 Seamless integration with all Creo apps
The next step is to act on these results. Being able to improve and modify your parts is easy as a result of the seamless integration with analysis and modeling. Being able to quickly optimise parts can generate significant value for companies in the product development process. After any modifications have been made, you can use the same analysis setup to obtain results.
Find out more about using Creo, take a free 30-day trial today