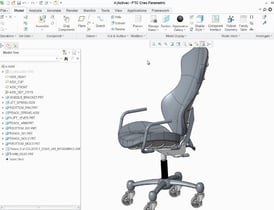 What are some of the common themes, issues and problems that are currently being talked about in industry on concept design and its importance to the product development process? PTC recently did a survey and they found that 92% of their customers, when asked, said their businesses could benefit financially if they had a better platform for exploring concept designs.
Whether this is a completely new concept, a new product idea or if it's taking something that you've already made and modifying it for a different market, geography or application, having the right tools in place to explore all the design options is vital. The concept phase basically helps you to determine whether your products are innovative, marketable, and importantly, how much do they cost to manufacture and can you actually manufactured them. It helps your businesses to decide whether or not to invest the time, money and resource in bringing that new product into the marketplace.
With traditional parametric tools, it can be a very cumbersome task to experiment with lots of different ideas.
As a result, these constraints will mean that designers aren't able to explore all of the different concepts in full. In turn, this restriction can limit the final product, compromise the financial success of new product and ultimately reduce market share. Without having the right concept in place at the start of the product development process, it is an uphill struggle to make your product a success.
Most designers want to be able to generate more designs in the same amount of time so they can explore more options and then introduce more innovative products into their marketplace. Oddly, however, a major barrier to better concept design is actually too much technology. A lot of companies use lots of different tools in their product development process to capture their concept designs. But often those tools aren't compatible with PTC Creo or another system for developing the concept further. It's not unusual for a designer to use one software programme for concept design work and then switch to another for detail design. All this leads to inefficiencies and redundancies. The CAD data needs to be recreated, translated and then you've got all the data management problems that arise from this situation. Ultimately, as a result of this, you create more work for yourself and risk losing design intent.
So the result of this is less time to invest in generating and sharing new ideas.
There's has to be, you'd think, an easier way to explore more concept designs faster and more efficiently.
A common theme since PTC launched the Creo platform has been a determination to improve the concept design process and integrate it more fully into the overall product development process.The Design Exploration Extension is the latest piece of technology from PTC to help streamline and improve this area.
To find out how the Design Exploration Extension works in practice, watch the OnDemand webinar now: