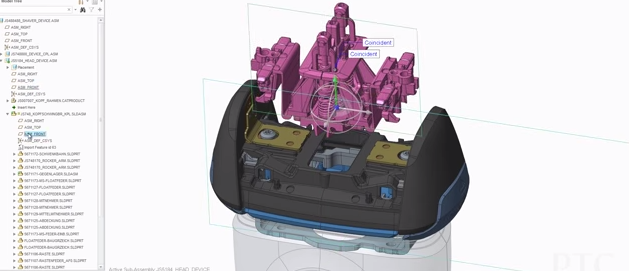 The new release of Creo Parametric 3.0 comes with some impressive new features and functions. They've all been made to help designers and engineers be more productive and create better products.
But with so many new enhancements announced, it can be hard to know which are the most impressive. Here is a run down of our top five releases:
Improving user experience
Getting up to speed quickly is important. It doesn't matter whether you are a new or existing user. In Creo Parametric 3.0, there are a number of enhancements that improve the overall user experience. This includes a welcome screen, with links to 'What's New' and getting started tutorials. On top of this, the Help content is now available on the web. So finding the information you need is easier than ever before.
Introducing new multi-CAD technology
With the release of Unite Technology, companies can now face the challenges of working with multi-CAD data. This feature includes the ability to both open and import non-Creo files, save Creo data in other formats, all while creating and maintaining design intent.
Streamlining workflows
Streamlining workflows to improve productivity is an important part of Creo Parametric 3.0. First of all, the product now comes complete with an extensive fastener library, with a significantly enhanced placement and assembly workflow. The edit reference functionality has also been redesigned, to provide a more powerful and streamlined interface.
Improving core modelling
There are many new additions to the core modelling set in Creo Parametric 3.0. To name a few, updates include:
Introduction of cordial rounds
More robust flattening of Freeform geometry
Untrimming surfaces
Improved geometry pattern capabilities
Enhancing analysis tools
Many of the enhancements made to the analysis tools are driven by what the users want. As part of this release, improvements have been made to the graphical display of draft analysis and added a new tool to check curve and surface continuity. Also, it is now possible for you to complete mold simulations and 3D thickness checks on plastic part designs.
Bonus Enhancement – Free license of Mathcad Express included
To support the documentation of your vital engineering calculations, Creo Parametric 3.0 now includes a free license of Mathcad Express. This integration will help you to create and maintain and electronic engineering notebook
To find out more about the latest release of Creo 3.0, why not come to on of our UK launch events: