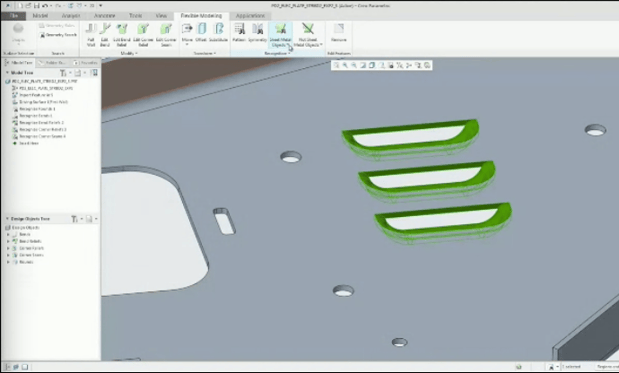 The free trial of Creo 4.0 already promises to be the most user friendly, efficient and connected product of the Creo Parametric range. For users, Creo 4.0 will not only increase their productivity, but make it easier to take advantage of more model-based approaches.

By integrating technologies that help to analyse and simulate parts, both inside the software and out in the field, Creo 4.0 not only encourages the production of higher quality designs, but designs that will save company money and resources in the short-term.
Better usability
Many of the changes that have been made to Creo 4.0 are designed to increase the productivity of users. Users can streamline their design time with better selection tools, customisable toolbars and shortcut commands, which allow engineers to adapt the software to their needs.
The new context sensitive mini-toolbar also means that tools are within easy reach of a user's mouse at all times and by simply pressing F11, users can access full-screen graphics mode. Both of these tools reduce on-screen clutter and allow designers to focus on just their designs. This emphasis on opening up and customising the software's workspace means that Creo 4.0 users can focus on producing designs, rather than having to 'learn' the software.
Easier lattice work
Latticework is fast becoming the basis for complex and lightweight part designs. Creo 4.0 improves the efficiency of latticework creation by providing users with the ability to build them easily and directly inside the software.
Users simply specify the area or volume that they want the lattice structure to fill and the software will complete the work for them. It also offers full control over the size, shape and orientation of the lattice elements and, with Creo Simulate will analyse and suggest the best structure based on the design goals. This not only makes designing more efficient, but reduces the likelihood that the lattice structure will fail either during testing or out in the field.
Streamline 3D printing abilities
Creo 4.0 also provides considerable updates for additive manufacturing and in particular 3D printing. Rather than using several different softwares to optimise designs for printing, the update streamlines the 3D printing process so that it can be conducted in a single software space. PTC have extended their partnership with Stratasys meaning that Creo 4.0 users can take advantage of a connection to Stratasys and 3D Systems 3D printers that can be accessed directly from the software.
Creo Product Insight
PTC's commitment to making connectivity a central part of the design process is culminated in Creo Product Insight, which will allow engineers to take data from their digital product once it is manufactured and put out into the field.
By instrumenting products using sensors and connecting them back to the CAD design, engineers can understand exactly how the product is performing the in field and make more informed design decisions. This reduces the need for continuous testing or multiple design iterations by reproducing the product's performance inside the CAD system and allowing engineers to understand the parameters and settings of a product when it failed or performed badly. It also means that companies can have more confidence when taking their products and reduce costs from misplaced design assumptions that lead to the over- or under-engineering of their products.