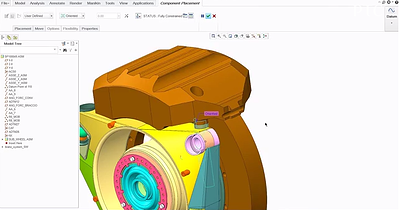 Working in multi-CAD environment can be a real challenge for engineering and designers. Discrepancies between different CAD tools can mean hours spent cleaning up data and ensuring that legacy data is fully integrated.
What can you do to make CAD consolidation easier?
With PTC Creo, it is straightforward to consolidate CAD systems. Engineers are able to directly reuse existing 2D and 3D design data, add design intelligence, and keep data from multiple legacy systems synchronised during the consolidation stage.
Once the legacy data from other CAD systems, including Solidworks and Catia, is opened in Creo, it can be easily assembled and referenced to other geometry and positioned in context to the entire assembly.
Engineers are also able to add in new design intelligence to legacy models, for example pattern recognition. To do this, you simply need to select a piece of the pattern and Creo is able to find and add intelligence to the model. Then, once this pattern has been recognised, it is possible to drive design changes and assemble other imported legacy or native components.
How can you ensure designs remain up-to-date during CAD consolidation?
To ensure that the design stays up-to-date with any changes made in the original legacy data during the consolidation phase, teams are able to maintain associativity with the original file. This allows them to quickly see and accept any changes made.
PTC Creo can also establish associativity between legacy 3D models and any related 2D drawings- even if these are from different legacy CAD systems. Once a drawing is associated with a model and the views are linked, dimensions can be validated and cleaned-up. This means that the model can now drive the dimensions in the drawing and any changes made to the model will be replicated in the drawing.
Is it possible to make changes to legacy geometry?
Making changes to legacy geometry is simple in Creo. In addition to adding intelligence at the assembly level, pattern recognition can also be used to recognise and modify patterns in the geometry.
Additionally, with the Creo Flexible Modeling extension, geometry can be edited further. For example, it is possible to select a surface and simply drag it to a new position. This change can then be reflected throughout the whole pattern. And, because Creo established associativity between the 2D drawing, the 3D part model and the overall assembly, any changes that are made are automatically reflected throughout the entire design.
Want to see how Creo works in practice? Register now for a free 30-day trial