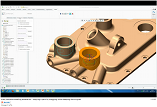 The process of designing new products is more complex than ever before. With multiple partners and manufacturers often involved in any project, clear communication and collaboration are vital. Yet, this comes with its own complexity, especially when manufacturers and supply chain partners are using different CAD tools. It's not surprising that problems occur; more complex processes, additional costs and increased room for error.
But, the reality of modern product design and development means organisations need to be able to accommodate multi-CAD data.
Ideally, manufacturers would be able to rely on a single CAD system, while being able to send and receive CAD data to and from other systems. So, whether this data came from a customer, supplier or partner, the data wouldn't have to undergo a needlessly complex process before it was workable. But, before this situation can occur, let's evaluate some of the scenarios that companies need to consider before implementing CAD standardisation:
#1 Which CAD tool should you choose?
Before implementing CAD standardisation, you'll need to decide which tool you are going to use. An important part of this is investigating which CAD tools are currently in use through your company and any partner organisations. Consider the stability of the vendor and how much effort they are putting into future technology.
Bear in mind there could be a particular CAD system that has become the in practice standard among the majority of users. In this instance, design reuse becomes a key factor. Also, it your organisation has one or two large customers that make up the bulk of your revenue, their CAD system should be given due consideration.
Additionally, cost should be considered. This includes everything from licensing fees, user training, and migrating data to a new system. If there is a particular system that most or all of your users are familiar with, then this should be a significant factor in your planning.
#2 How do you plan to complete the transition?
Everyone will be happier with the transition process if there is a clear plan in place, with the specific role of each person clearly outlined. In particular, managers need to consider the potential pain point of the transition and plan accordingly.
#3 When should you start using the new tool?
Typically, the best time to start using your standardised CAD system is to ensure that all new projects are done in the new system. But, in practice, this can be difficult to implement. Much of the work completed by design engineers relies on existing design work. For this reason, it is vital that your legacy data can be transferred into the new system.
#4 Why should you consider CAD standardisation?
There are many advantages of standardising your CAD system. It gives your company a single source for all product development data, making it easier to manage files and share information. It also means that engineers can spend more time working on new product designs, rather than having to re-create data and finding the right file version.
But, it is not necessary practical to think that all products can be designed in one CAD platform. The ability to use CAD files from different sources is vital, to accommodate all partners and suppliers. Ideally, companies should look to standardise their systems, while ensuring they have the ability to still send and receive CAD data in different formats.
Want to find out more about the latest CAD technology? Download the free CAD eBook here: