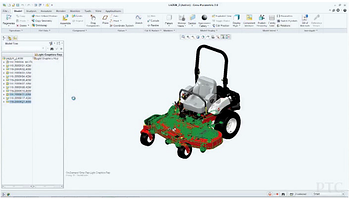 Companies that are designing sophisticated products, with either electro-mechanical or highly engineered components need to balance product development costs, quality and time to market pressures.
What are the problems of not having digital prototypes?
Today, many companies are still struggling with an inability to create and use a complete 3D digital prototype, including both the mechanical and the electrical components. Yet, this is holding them back. By not creating full digital prototypes, teams are slower to find and correct design errors. It also makes it much more challenging to work concurrently with suppliers and partners.
This inability to capture the full definition of the design prevents designers from working in the entire context of the assembly and leads to errors in the design. It also results in much longer design cycles, which are bad for time to market and competitiveness.
How do digital prototypes help?
By having a design solution that allows you to quickly and easily capture the full digital prototype means that you are in a much stronger position. Using CAD technology that is both scalable and interoperable, along with best practices to help transform your design process, it will bring you faster time to market and, therefore, faster time to value.
A scalable CAD software facilitates better collaboration across design disciplines, with customers, internal stakeholders and suppliers all able to input easily into the design process. This method enables you to validate designs earlier in the design process, eliminate costly errors and then optimise those designs for cost and quality. And, with superior design technology, your teams can accelerate all of your CAD activities, from routine tasks like importing models to higher value tasks, such as creating complex surfaces. All of this frees up valuable cycle time for more important activities, like creating better, highly differentiated new concepts that make yours a winning design.
By combining superior CAD technology with best practices based on experiences with customers, having an advanced design solution enables your team to create and use robust 3D digital prototypes, allowing you to reduce product development costs, increase quality, and speed your time to market.
Do you want to know more about our advanced design solution? Try Creo Parametric free for 30-day to find out more: