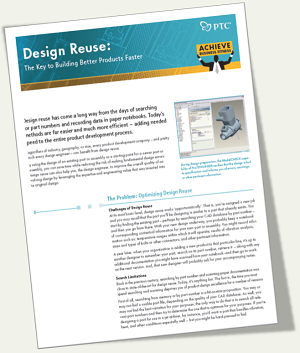 Time is increasingly important for companies. Getting products to market faster and reacting to customer demands are essential to remain competitive.
But, sometimes, your current processes and systems can hinder your progress. Whether you need to waste time looking for an old file or spent ages creating a new model, only to find out a co-worker made something very similar previously, these situations can have a real impact on the bottom line.
Without a comprehensive product data management system, it is likely that you have come across these problems. And, in a competitive market place, scenarios like these are a real disadvantage. But by utilising a PDM system, you can increase design reuse, increase time efficiencies and become more competitive. In particular, using your existing intellectual property, by reusing complete designs or modifying them to new specifications is a real time saver. But, how can using PDM systems help you to increase your design reuse?
Increase the amount of designs you reuse
Using designs that you've already created can significantly reduce the overall product development time. By not having to start each product from a blank sheet of paper, you'll be able to finish your new design faster. It can also decrease time spent in downstream processes, including purchasing and manufacturing.
By having a comprehensive PDM system, it is much easier to find and access old designs. This means you don't have to waste time to find the data that you need. It means you're more likely to reuse old designs, as the processes are in place to support this.
Reuse designs that are proven to work
A reused design is also a proven design. You know that it works. You have proof from the market that it is valid concept. This is better for customer satisfaction, as the core of the design intent has already been tested. By using proven designs, you also have the opportunity to add new improvements to make the final product even better.
With a PDM system, it is easier to find and access the designs that have worked, so you're not left struggling to find the data you need.
Decrease duplicated entries
Without a proper system in place, design data can very quickly become disorganised. Different versions can mean nobody is really sure which version is the most recent or approved version. It can also mean that data becomes lost, is duplicated or becomes very hard to find. All of this adds to the product development workload.
By being able to manage existing design data effectively, it means that these errors are minimised, allowing designers to get on with the task at hand.
React faster to customer requests
When a customer comes to you, requiring a new product or part to be designed, you can use your existing design data to fulfil this order more quickly.
By being able to access all of your existing designs, you'll be at a competitive advantage because you can meet your customer's needs more quickly, without compromising on quality.
Want to find out more about design reuse? Download our free Design Reuse Report: