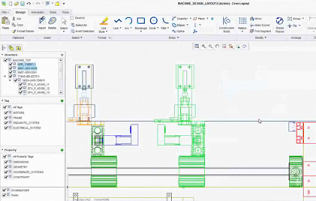 Creo Layout is the Creo App for 2D conceptual engineering. Many companies, even though they use 3D solid modeling as their preferred engineering tool, still maintain some 2D CAD in house. In this case, what they want to do is take advantage of the flexibility that 2D CAD offers them; being able to make large, unpredictable changes and explore multiple design options.
What is the traditional challenge of using 2D and 3D?
The challenges that many companies face when they use both 2D and 3D is that these tools are fundamentally disconnected. The design that is created in 2D, in order to be reused in 3D, has to either be imported or recreated into the 3D tool. This disconnection causes inefficiencies in the design process.
Also, because of this disconnection between the 2D and 3D tools, any changes that are made in the 2D environment are not automatically reflected in 3D. This means that the user either has to go through the re-import process or create the change twice. So, the result of this is that, even though they want to use 2D as their upfront tool, in many cases companies have to give up on the 2D design tool earlier than they would like.
How does Creo Layout overcome these problems?
Creo Layout solves this issue. Creo Layout is a sophisticated 2D design environment that contains all of the tools that a user needs to work on designs in 2D. There is also complete integration with 3D, so all 2D designs can be used directly within the 3D environment. Because Creo Layout is built on the Creo Common Data Model, you can seamlessly integrate this 2D data into Creo 3D modeling tools. Since you are directly using the 2D data in the 3D environment, any subsequent changes to that 2D data are automatically propagated into the 3D environment.
Creo Layout allows users to start a new design using either an existing 2D drawing as the basis or by importing a cross-section from a 3D model. Creo Layout provides a set of sophisticated drafting tools, including guides and precision panels, to allow the user to create their 2D designs. There are also tools to help organise and manipulate the 2D geometry. So, you can uses tools like mirror, copy, offset, as well as structure, tags, and groups to organise that design. Creo Layout also offers a set of detailing capabilities. You can add dimensions, notes, and tables to your 2D design. And, when the 2D design is ready, to be brought over into 3D, you can directly assembly your Creo Layout files into your assembly model. At that point, it can be used as an assembly reference for other components or copy geometry can be used to take some of the geometry from the Layout file and bring that into part models to be used as a reference for part features. Because you are directly using the 2D layout in the 3D modeling environment, any subsequent changes that are made to the 2D file are automatically propagated.
Want to try Creo for yourself? Get a free 30-day trial of Creo Parametric today: