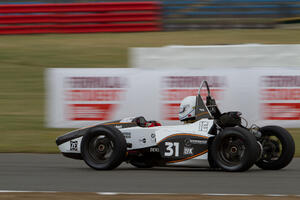 Formula Student is taking place on 4th July- 7th July 2013, at the Silverstone circuit. Now in its 15th year, Formula student is the largest motorsport competition for students in Europe. Teams are challenged to design and build their own single-seater race car, before taking on the other teams at the Silverstone event in both static and dynamic events. And, as a Sponsor of Formula Student 2013, we can't wait for the Formula Student event and the chance to meet all of the young engineers taking part in the programme.
Organised and ran by the Institution of Mechanical Engineers, Formula Student is an industry recognised competition that helps to motivate and encourage future engineers. Universities from around the world are represented by teams who are ready to face the Formula Student challenge.
What is the Formula Student challenge?
For a young engineer, participating in Formula Student is an excellent opportunity to prove your technical, engineering design, and manufacturing skills. But, on top of this, it also teaches important business skills, for example, team working, time management, project management, budgeting and presentation; all things that any future employer will be looking for.
The single-seater car that each team produces should be a prototype for autocross or sprint racing, which is presented to a hypothetical manufacturing company. The car is judged on several key criteria. It should be cost efficient, straightforward to maintain and have good reliability. But, it also needs to have high performance, which is judged on its acceleration, braking and handling.
As part of the competition, teams need to be able to show the reasons behind their proposal and prove how their car would be a viable business model. By working on both the technical and business side of the project, Formula Student is an excellent opportunity for future engineers to demonstrate their abilities and talents.
The benefits of Formula Student for participants
Formula Student helps to support future engineering talent. By participating, students not only have to prove their engineering capabilities, they also have to prove their business skills.
To find out more about Formula Student, visit the website: www.formulastudent.com
Want to find out more about PTC academic program? Download the free guide here: