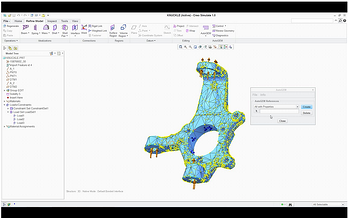 Design optimisation is now a typical part of product design and development. For many designers and engineers, they use simulation tools to help them optimise their designs and create better products.
Instead of relying on an already existing design concept or product to analyse and establish the performance, design optimisation is able to turn this around. It allows you to decide the best way forward with the design and choose the most suitable values when establishing the design parameters, as it is based on the performance metrics set by the requirements. But, for this to be effective, it is vital that the analysis outcome is accurate and the models geometric features are flexible enough.
While there have been significant improvements in optimisation, there are still barriers that need to be addressed before design optimisation is universally adopted. But, with simulation tools being used to help optimise design, let's explore how they assist company improve their design work.
How are simulations tools being used?
There has been a notable change, with simulation tools now being used as a vital part of upfront design, instead of just product validation. This shift has resulted in new processes, new tools and new ways of approaching design work. Now, using simulation tools, it is possible to improve decision making and design better, more cost-effective products.
When the design develops along the development cycle, decisions and amendments are made. Often, the product geometries are too detailed and complex for just hand calculations. And, physical prototypes are expensive and created too late in the development cycle to support the upfront designs. Because of this, using analysis (like finite element analysis (FEA)) is often beneficial when wanting to evaluate the design options and fully optimise the design.
As a result of the integration between CAD and FEA systems, engineers can explore ideas, amend designs, and confirm the most suitable design ideas. It reduces the risk of costly design mistakes and enables more design options to be explored.
Designing must adapt to utilise the benefits
But, in fact, FEA tools are often not fully utilised by many companies. Sometimes, the reason for this is less about the technology and more about adapting to a different way of working. To fully take advantage of analysis, companies need to adapt to the idea that simulation can be used to support upfront design.
As part of this, training is essential. End-users need to fully understand what simulation can tell them about their design. With this, it will improve decision making and help inform decision making.
Find out more about the advantages of simulation tools by downloading our free report: