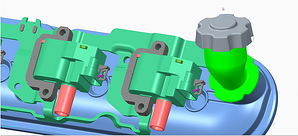 Advances in CAD tools and technology now mean it is easier than ever before for engineers to design products. It means engineers are able to document their own designs and innovations, as well as explore more design options. Read below to find out more about the new capabilities in CAD tools, which have made it simpler for engineers to design and create new products.
What are the new capabilities of CAD tools, enabling this change?
There are many advances in 3D design technology, which have improved the experience for the engineers. For example, it is now possible to use direct modelling methods to manipulate parametric models (and not just on dumb geometry). Also, it is now more intuitive for users to understand the intelligence of a model and being able to use this information to enable changes.
Equally, there have been a lot of advances in the 2D realm, which have improved design tools for engineers. For instance, when you look at engineering activities around sketching and diagramming, improvements here cut right to the core of what design is all about. This is often is very important for engineers.
Additionally, there is the improved transitioning from 2D to 3D. This important progression means engineers don't have to throw away the 2D work and start from scratch in a 3D model. Instead, it allows the 2D drawing to be brought forwarded and used as the base of the 3D model.
Why are the changes in 3D important?
3D really gives engineers the ability to create powerful designs. When working with a 3D model, there is so much that can be done with it. For instance, you can design for weight, for materials, for manufacturability, for serviceability. Advancements in 3D mean there is so much more that is accessible and usable in a 3D model. Plus, outside of engineering, when presenting a 3D model as a visual prototype, it gives you something that other people can actually access. It allows you to get input from outside of engineering more easily.
Why are the changes in 2D important?
Engineers typically use 2D tools early on in the design process. So, while advances to 3D modelling can help later on in the design cycle, the 2D capabilities allow engineers to explore and innovate with greater flexibility. They allow them to look at a range of different design options, which has a huge impact for later design work. So, things like the improvements in sketching tools as well as the improvements when moving from 2D to 3D all help engineers to create more innovative designs.
With all these improvements, what do we see happening in the future?
First of all, it doesn't seem likely that the power of parametric tools is going to go away. There are plenty of situations where it is the ideal tool for the work. But, it does seem possible that more companies will be using
It also seems possible that we will see more companies using not just one approach to their design, but adopting a hybrid approach. This could be on a project by project basis, or across different areas of the business.
There has been a tremendous amount of innovation in CAD tools and, one thing that does seem certain is that there will continue to be an investment in core CAD technology. So, for anybody who thought of CAD as a mature market, there is still more that will be done.
Find out more about the pros and cons of 2D and 3D CAD tools, by downloading our free presentations.